Camping is a national pastime. It's an inexpensive way to vacation, do a quick getaway or an overnight in your backyard. Campsites and gear run the gamut from $ to $$$$$ depending on your preferences and how much you want to rough it in the great outdoors. While some may prefer to have access to running water and indoor plumbing we understand not everyone feels that way. There are a lot of ways to "camp" and to each his own whether it's camping at home, in the backyard, inside on a rainy day or all out RV style. Henceforth a few of the cool things we have found along the way that may help move along the process, or be a must-have. Enjoy!
S'mores by TerraFlame
What is camping without the ooey, gooey, chocolatey, graham cracker mess of deliciousness on a stick found in the woods? It's not complete, that's what! Enter Smore's by TerraFlame, the self-contained, mini s'mores maker for all of your outdoor needs. The starter kit includes the s'mores roaster, bamboo tray & gel fuel. The fun comes in the variety of marshmallows, chocolates and other sweet accouterments you can concoct. The Deluxe Gift Bundle also includes your handy skewers, organizational bamboo tray, more fuel and a recipe book! You can peruse all of the accessories and some other fire based gorgeousness here. We also love that it is pretty to look at and you have a choice of grey or white for you fashionistas out there. Great for home, campsites, the park and more you can't go wrong.
Shop the entire S'mores collection on the TerraFlame website then go to Amazon to stock up on the gel fuel cans!
MSRP – $59.99
Radiate Portable Campfire
Yes, we have a healthy fascination with fire. But Shark Tank Alums Bryan and Brent created this perfect compact campfire good for on the go. The Radiate Campfire is 8 inches in diameter, small enough to make an impression, big enough to give the heat and not flame up so you can't see your guests. Made from soy wax, there are no embers, no smoke and a choice of original or eucalyptus scents. Their indoor version is positively adorable and comes in a bevy of colors and finishes. All of them burn for 3-5 hours.
Get the Radiate now, just in time for fall weather or grab it from Amazon and use that Prime status!
MSRP – $27.99
Water Bottles Galore
No outdoor adventure would be complete without a water vessel, hydrating is uber important. We love the Yeti line of water bottles, who doesn't? But they are an investment and not lightweight. Tons of colors, customization and size choices make them sexy. We love the CamelBak bottles for the littles, durable, colorful and compact to boot. The variety for mom and dad rocks too with BPA free, with or without a straw, insulated or squirt bottle as some of the choices. LifeFactory is our fave glass bottle. Tempered glass and silicone sleeves keep these intact. Starting at Baby bottles all the way up to big kids and grands. As long as there is lots of aqua to go around you can't miss. Kleen Kanteen is always a crowd pleaser and has been around the block, one of the first on the scene almost 20 years ago. Beyond the "bottle" their selection of tumblers and lunch kits are super aborbs and functional.
MSRP – $17.99 and varies upward. Checkout Kleen Kanteen on Amazon, Life Factory here, CamelBak for all here and best sellers from Yeti.
Rain Rain go Away with Western Chief
As much as we want to believe the weather gods are with us, inevitably that changes at some point. So we always go prepared with rain gear. Western Chief has been touting their outdoor and rain gear for OVER 100 years, something must be going right. With whimsical designs for every opinion in your household there is something for all. The littles get the best of both worlds with matching rain sets that can double as dress up or additions to Halloween costumes. And OMGee we are obsessed with the Lighted Rain boots line and the Mommy and Me line. Don't worry there are plenty for mom and dad too!
MSRP – $19.99 and up
Coleman Skydome
There are a bevy of tent options out there for those of you who really enjoy the great outdoors fully. Prices range from $300 and up into 4 and 5 figures, for our purposes this super functional and reasonably priced Coleman backyard tent is what we like. Bring back the outdoor movies and popcorn and have the same feel as those trees towering over you without the lack of indoor plumbing. And there if there are monsters lurking at least you can all go inside and watch them from the window instead!
MSRP – $68 and up, Amazon has a great selection of multi person, multi functional outdoor tents.
To Sleep Is To Dream
You can't be settled in the great outdoors without a comfy sleeping situation. The Flantree Sleeping bag not only comes in a variety of super color combos, but the double zipper means you can open just the bottom and let those tootsies hang out, or open it completely as a blanket. 4 Season design to keep you warm and cool depending on the situation and machine washable.
MSRP – $21 and up on Amazon
Snack Attack
If your offspring are like mine, they inhale food when outdoors, like a switch turns on and boom! they are a bottomless pit. So on any road trip, whether down the street to the market, a 3-hour car ride, plane ride cross country or vacation, plenty of snacks are ready and available. A few that make this list for 1) Ease, 2) Portability, 3) Shelf stable, 4) Snack size. No one needs another cooler full of things to lug around.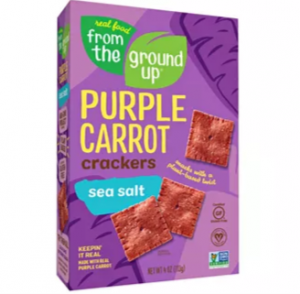 GoGo squeeZ portable fruit pouches have long been a stable in our pantry. 100% pureed fruit in over 30 flavors including fruit and veggie, organic, Big squeeZ, Happy TummieZ (a prebiotic line) and a dairy line of YogurtZ and SmoothieZ. We've got breakfast and a few snacks covered. Kind Kids Bars wrap 100% whole grains in with the crunch and savory/sweet. Chewy Chocolate Chip and PB Chocolate Chip available. This Mini variety pack is a great way to go as well. Anything from Ground Up Snacks is a hit. These plant and veggie based crackers, chips, puffs and pretzels are the bomb. A great way to get carrots, cauliflower, squash and more into those tummies! We could munch on these stalks all day long!
MSRP – starting at $3.99 and up
Pesky Bugs
Four legged creatures beware! Murphy's Naturals are the perfect compliment to any camping trip. Candles and incense and oils oh my! With plant-based natural Mosquito Wipes & Repellant Balm and a fabulous Lemon Eucalyptus oil Insect repellant spray you are all set. We always love a company that partners with 1% for the planet and makes their
MSRP – Travel sizes starting at $5.99 and bundles from there can all be found on the Amazon store.
Now that you have decided on that perfect KOA location and picked up all your gear, check out HappyCamperLive for our Campfire Recipes, Kids Camping Hacks, Connecting with Nature and more on our Blog. When storytime is over, head over for our free 7 day Free Trial and check out our year -round activities, DIYs and Videos to help your kiddos find new passions.
Tagged:- Camping, gift guide