March is National Craft Month, and what better way to celebrate than by making crafts? Gather up your friends and your supplies, and have fun trying these five kids crafts for National Craft Month!
Make A Terrarium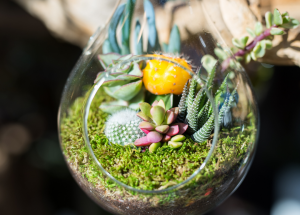 Combine nature and art, and build a small terrarium. Choose a transparent container, glass or plastic, so you can see your creation. A wide-mouth lid will make it easier to build a terrarium. Consider a fish tank or large mason jar as a container.
Add drainage layers to the bottom of the container, such as gravel or small rocks for about ¼ inch to ½ inch. Next add moss and potting mix. Pick plants of varying heights for the terrarium and plant them. Small ferns, bamboo, moss and pothos are some great plant varieties. Add decor such as your favorite toy action figure, gnome, or small animal. Put in a place where it will get bright indirect sunlight.
Make Puppets
Puppets are an art craft that can keep on giving. Make your puppets and then put on living room theater shows over and over again. There are a couple of easy ways to make puppets. The first way is using paper lunch bags. Simply cut the faces out of construction paper and glue them to the back of the paper bag. Old socks are another great method for making puppets. You can use foam, paper, beads, feathers, and other craft supplies to decorate your puppet.
Make Origami Paper Animals
All you need for this craft is paper in a variety of colors plus scissors. Look up different Origami patterns online, and fold, fold, fold. What will you choose to make, a paper crane or a butterfly? There are so many options to try!
Have Fun With Tie Dyes
Give old pieces of clothing new life with a little tie dye. Gather white or light colored pieces of clothes, and a tie dye kit. Mix your dyes, then fold and tie your clothes. Use rubber bands to make patterns. Let the dye set for 24 hours. Then remove the rubber bands and rinse your garment until the water runs clear.
Make A Bracelet
Friendship bracelets are fun and easy to make, and there are so many unique patterns and colors you can try. Learn the zigzag candy strip or the chevron pattern. The only materials you need are embroidery floss, scissors, and some tape to tape it down while you're working on weaving the pattern.
Or make a beaded bracelet following our camp counselor Sarah's instructions.
If you liked these crafts, check out our Arts and Crafts Camp.
Tagged:- arts and crafts, kids crafts, national craft month