At Happy Camper Live, we are all about that camp feeling all year long. Whether it be in person at a day camp, sleepaway camp, specialty camp, holiday camps or camp mom and dad. Our mission is for all kids to experience that feeling of finding their passions, or hobbies or finding something new. As lifetime campers, parents and camp professionals, we are experts at this point. We strive to help our kids make impactful choices and give back to others. No deed (or age) is too small to make a difference.
On the heels of our Holiday Gift Guide come our monthly top picks. We loved finding useful and fun things so much we have extended this guide to monthly treasure troves of picks for you and the kiddos to discover. Each month is themed to a different type of camper and curated to our faves. First up, January's Crafty Camper – our crafty discoveries for all sorts of creativity and expression. Break out the aprons, wipes and paper towels! Crafts are a great way to keep busy inside during the winter months.
YearCheer Decoration Box Subscription
Are you always scrambling the day before in the clearance bin for holiday decorations and all the stuff to go with it because the little one will pitch a tantrum without the special ghost banner for Halloween or the red and white napkins for her Valentine's Day feast? We found this amazing mom-founded (because of course) subscription box that takes ALL the stress out of the equation. Year Cheer has boxes for 8 major holidays. They include decor, paper goods (if warranted), appropriate games, and surprises the kids will love. No mess, no Fuss, it lands on your doorstep with plenty of time to make your home fanciful. Various subscription and gift packages are available or you can purchase a la carte per holiday.
You can find this directly at the YearCheer website, and for being a part of the Happy Camper Live community you can take 15% off with code Weekly15
MSRP starts at $49.95
---
Pottery with a Purpose DIY Pottery Kit
Have a tactile kid who loves to get messy? Do you need a new coffee mug or bowl, or flower for the living room table? Need more calm and mindfulness in your life? Check out Pottery with a Purpose, DIY clay and ceramic kits for all ages. A super easy kit to use with step by step instructions, beginners tools and of course clay for that next masterpiece creation. Once finished, check out a local craft store for ceramic paint to add that Je ne sais quoi quotient. We love that a percentage of every purchase goes towards 1 of 4 charities supported for mental health and wellness, you get to pick! A great alternative for a moms night out or company ice breaker. After you have mastered the tips and tricks, head over to Happy Camper Live to our ceramics camp!
Shop the entire collection or check out other pottery kits right at Pottery with a Purpose
MSRP starting at $63
---
Craft-tastic Kits
A good 5,000-square-foot craft store is my happy place, I could wander for hours, there I said it. I'm a sucker for a good DIY craft kit that keeps my kids occupied and interested. So imagine how thrilled I was to find the Craft-tastic line. I'm honestly not sure which I like the best as there is 1 for each week of the year, yay! There are jewelry kits, sticker kits akin to mandala drawing zen, string art (definite throwback here that I'm obsessed with), learn to sew because it will be handy later in life kiddos, and more! There is literally something for every kid out there and we have more tutorials on the Happy Camper Live site.
For a wide variety of choices check out my new obsession AnnWilliamsGroup, but also available at Dick Blick and Amazon.
MSRP $19.99
---
Diversity And Inclusion Crafts Are A Thing! (And A Good One At That)
The world is changing, diversity and inclusion are hot topics and finally brands are hip to this and doing more than acknowledging it. Every kid should be able to relate to a toy or item that makes them happy and reflects on them as a tiny human. Some of our newish favorites include old school brand Faber Castell and their World Colors Modeling Clay. This along with Crayola's Colors of the World capsule collection and your kiddo is set to let their imagination run wild. Per usual Crayola goes all out with markers, crayons, coloring sheets and pencils for the ultimate experience for any skin tone.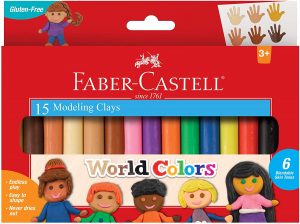 The lesser known but equally as fabulous Faber Castell has been around for over a century. I still have my crayons, colored pencils and pastels from my teen years and they work just as well all these years later. The Faber Castell Creativity for Kids line of educational kits are eco friendly as well as being useful. From lessons plans to add ons to the basic tools, you are covered.
Stock up on the Faber Castell World Colors Crayons, modeling clay and the Crayola Suite and rainy day boredom will be banished!
MSRP starting at $2.49
---
Sticker Machines Are The Bomb!
As an avid collector in my camp years, I'm happy my kiddo is continuing the trend. The stickers we had way back when aren't quite the glittery impressions available now (scratch and sniff will remain my go-to) but there are tons to choose from. To further this obsession there are now sticker machines!!!! WHAT???? DIY and so easy a 4-year-old can do it independently. We have found this Xyron Sticker Machine line. It comes fully ready to go, all you need is white paper to draw your OWN designs on, slip it into the machine and voila! Instant sticker paper. For lockers, notebooks, chalkboards, diaries and everything in between. My 11-year-old has been having a blast daily with new designs and her creativity. There are several sizes to choose from as well as all the extras and replacement parts. Get your idea on with their robust Pinterest Page and happy designing!
You can find several brands for all needs, but we are partial to the Xyron machine, super easy to use, multiple sizes and easily found at Walmart and Amazon.
MSRP starting at $29.99