At Happy Camper Live, we are all about that camp feeling all year long. Whether it be in person at a day camp, sleepaway camp, specialty camp, holiday camps or camp mom and dad. Our mission is for all kids to experience that feeling of finding their passions, or hobbies or just killing an hour with something new. As lifetime campers and now parents, we'd like to think we've earned the right to be self imposed experts. We strive to Play, Create, Discover, Wonder and Inspire them to make impactful choices and give back to others. No deed (or age) is too small to make a difference. Thus forth, our humble HCL staff picks for 2021 in those realms. We hope you will like our finds as much as we do……
Teach them to PLAY

Pressman Dance Charades
Grab your tik tok kiddo and friends for a fun night with the cool twist on traditional charades that is Pressman Games' Dance Charades. Pick cards and bust as many moves as you can during the timer to earn points. Bet that wallflower will do the lawnmower and the tornado like you've never seen in an effort to best their buddies. Popcorn and candy not included for viewing pleasure, but it will sure be a site to see!
MSRP – $24
---

Make A Fort
To all the moms and dads who cringe when the pillows hit the floor and the sheets and blankets are whipped out faster than a toddler crying for a sippy cup at witching hour. We have your saving grace – the Make a Fort Explorer Kits. With heavy duty cardboard construction and connectors, this is HOURS of old school play for their imagination. From forts to tunnels, to castles or a zen house for your yogi, build em up up and take em down countless times. For your artiste, they can lend their skills on the decoration of the exterior. One kit recommended for youngins, 2 or more kits for bigger kids or more than one playing together. Suggested project builds can be found here.
MSRP starts at $99
---

RallyHoops
Can't decide between basketball and volleyball? Have ringers on both sides? Grab the newest game out there – RallyHoops– that combines both of these team sports. Born from a bunch of brothers, an idea and the help of Kickstarter, the portable kit can travel anywhere that bases are level to the ground, park, gym, beach, backyard.. Poles can be adjusted for wee ones and adults alike along with skill levels. Super easy instructions for set up and play.
MSRP – $189.99
---

Gabby's Dollhouse Art Studio Playset
Dreamworks Netflix show – Gabby's Dollhouse has been quite the playdate inspiration of late. The TV show has Gabby and her Dollhouse buddies crafting up projects, experimenting with their musicality and putting her best baking foot forward. Naturally a retail toy line just debuted this summer at WalMart, including our favorite piece – Gabby's Dollhouse Art Studio Playset, perfect for your budding Picasso or Pollack.
MSRP – $9.88
---

Yu-gi-oh!
The Speed Duel kits from trading card behemoth Yu-Gi-Oh! have years of legs on them. We like exclusivity so if you aren't on this bandwagon yet, check out this list to find your Official Tournament Store near you that has the Yu-Gi-Oh! Speed Duel Demo Kits stocked ready for the taking and start creating your Yu-Gi-Oh! Adventure. Find your official gameplay details here, and the official tournament listing here. Once you have your starter kit, come back to Happycamperlive.com to unlock the magic and learn to duel.
Grab it at all major retailers!
MSRP starting at $9.99
---
Encourage them to CREATE

Snazaroo Ultimate Face Paint Party Pack
Holiday Party? One upping the neighbors kids at the big game? Costume parties? Kids school play? The Snazaroo Ultimate Facepaint Party pack is your one stop shopping for anything to pretty up (or freak out) those little and big faces. You can't beat the quality of this kit and all of the Snazaroo products. Snazaroo face paint has vibrant colors, easy peasy to apply and won't crack or fade off (have those heavy duty wipes and water ready and waiting come the end of the night).
MSRP – $19.99
---
Bright Stripes Wish Craft Line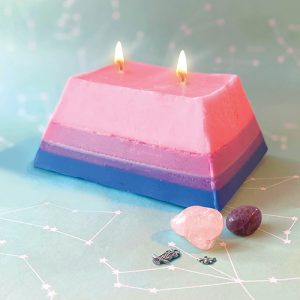 Bright Stripes already has a bevy of super cool DIY craft kits a step above the everyday. But we are currently beyond loving the new Wish Craft line of intentional product for your wanderlust child (or adult!). Soothe your soul with the Treasure Candle complete with gemstones to hide as you build your candle. A microwave, a creative mind and adult supervision is all you need. To keep them stylish check out the Mystical Moons Paint your Own Scarf. This 5 ft luxurious accessory is pre-printed for an afternoon of palette painting. So many other great projects to consider as well not found on every toy or craft shelf out there.
MSRP starting at $21.99
---

Twee Handmade chunky chalks
These chunky handmade sidewalk chalks for little hands have to be the best thing to come out of Philly since the cheese steak. OK maybe the grownups wouldn't agree but your little one definitely will. Twee handcrafts eco friendly, biodegradable sidewalk chalk products. The littles will love the solar system, donuts, sushi and glitter covered unicorn horns among other fantastical designs. Bonus it will keep them outside for hours. They also have a Misfit Toy program whereby slightly "off" or cracked/broken chalks are collected and donated to a local Philly kids charity monthly. Additionally quite a few of the unique kits are givebacks in themselves to other charities.
MSRP starting at $12
---

Loog Ukulele
How many startups say they were conceived as part of a Masters Thesis at a reputable university? We'd venture not many. This team wanted to create a sustainable, unique piece that kids and adults would love. With a passion for music and an amazing Kickstarter campaign Loog Guitars is now producing a great first guitar for your musically inclined kids. Starting at three strings instead of six, the Mini easily allows little fingers to fret and comes in some pretty cool colors like mint, pink and yellow. A size string size is available too. You can book a lesson, grab a music book and more. And free shipping is included on all orders
MSRP starting at $79
---

Monti Kids
Montessori Cooking Together Kit
Is there a pint sized Rachel Ray or Bobby Flay in the family, jonesing to show their inner foodie to the world? The Montessori Cooking Together Kit is a great starter kit on the road to the Kids Baking Championships. Complete with an age and size appropriate set of kitchen tools, recipe cards with visuals and instructions and a mandate for fun! There is also an online hub for parent support, videos and more. This kit is good for kiddos who can stand and balance on their own and lift and pour.
MSRP – $100
---
Let them DISCOVER

Fat Brain Toys Sky Nook Hammock
Don't we all wish we had a little reading nook in the house? The next best thing for the kiddos is the Sky Nook Hammock from Fat Brains Toys. Snuggle up in this 24 inch cloud of coziness with a book, a lovey or just to take a nap. Durable materials, a padded seat and 2 vibrant color choices make this the ideal addition to your list. Three to seven years old is the sweet spot. Indoor or outdoor use and the simple construction make falling out a chore. Washer safe, hardware and rope not included. May we suggest the Wimpy Kid Series for their reading pleasure?
MSRP – $39.95
---
Wisdom App – The World of Emotions App
The past 20 months have been trying for the best and most positive of personalities. We can't guess what it has been like for kiddos with coping or spectrum issues. That is why we leave it to the experts and are loving the foundation of the SEL Wisdom App. It is chock full of interactive social – emotional games making it fun to learn coping strategies and managing emotions. There is a level of gamification here in that as your LO follows Wisdom (the main character), they embark together to help the citizens manage as well through adventures which unlock superpowers once completed. These superpowers are used in the Adventure Area to help the citizens and themselves with higher level emotional management. They can then continue the "play" with downloadable templates and activities. Parenting guides are included and while the app itself is free, there is a subscription base model to unlock some additional features. Available on Android and iOS.
Grab it in the Apple Store or Google Play for Android
MSRP – Free but in App purchases start at $4.99 Use code HAPPYCAMPER25 for 25% off a regular app yearly license, use code HAPPYCAMPER30 for 30% off My Holidays with Wisdom
---
INSPIRE them
Vicky Barones #HappinessMovement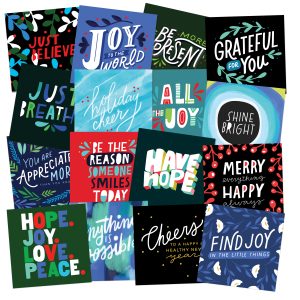 We love everything about this product. At the start of the pandemic, illustrator and designer Vicky Barone saw a need to provide inspiration through any means possible, which led to the launch of her Kindness Cards collection. To date, over a quarter of a million Kindness Cards have been sent to people all over the world for free – the only ask being that each recipient "pay it forward" by sharing the cards with other people in their daily lives. The Kindness Cards – Holiday Collection is available to ship starting 11/1 and you can use code VBHAPPY21 for a FREE set of this 31 card lovefest (1 for each day of December). The other gorgeously decorated collections range in price from FREE to $6.99 for sets of 20. Stationery, home decor and lots of other smiley, kind gifts are available on the website as well. Kindness Matters everyday, not just the holidays!
MSRP starting at $4.99
---
National Wildlife Federation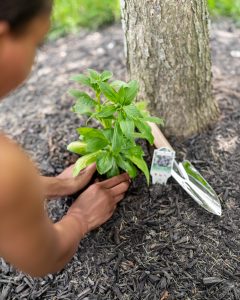 You do not have to have a botany degree to enjoy all the wonderful things and education opps this beloved org has to offer. We are currently loving their DIY Butterfly Garden/Wildlife Habitat in a box. The 6- or 12-plant collection is the gift that keeps giving as it blooms over and over again providing much needed shelter for butterflies and birds. Easy for the littlest of your crew, unpack the box, dig a hole, place the plants and feed them some water. But you don't have to take our word for it, the folks over at National Wildlife Federation want you to make your own decisions with a holiday discount – enter HAPPYCAMPER at checkout to save 10% on your purchase. These make a great gift for the floral loving fams in your life as well. All sales, big or small, support National Wildlife Federation's non-profit mission to help wildlife thrive in an ever-changing world
MSRP starting at $68
---
Hearts of Hope
Borne out of tragedy, Hearts of Hope has now touched over 175,000 lives in the hopes of helping individuals heal from whatever ails them at the time. We all need a little encouragement, especially over the holidays. Whether you are grieving or just need a pick me up and the tenacity to face your grief, build resilience or empower yourself and others, the Hearts of Hope Hope Kits can be a great part of the plan. You can purchase 1 kit or many, decorate them with your kids, and give or send to someone in need showing them how to make a small difference as well. There are many other ways to be involved as well that you find right here.
MSRP starting at $10
---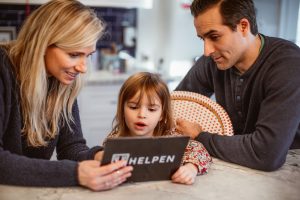 Helpen
The easiest giveback your kids will ever experience, with you, as part of their daily routine. Helpen sends a weekly postcard with 3 non profits for your family to learn about. You choose together which organization you want to support (or support at 3!) with a QR code and $1 contribution. I mean, where else can you make a tangible difference for only $4 a month? At the end of the month, you will connect with Alexa or Google Assistant to hear how your donations made a difference. The best experience is beyond the signup via our device, no emails, no reports, just asking Google while sitting at dinner. A yearly subscription is $40 and also includes Parent "snacks" – content from parenting experts on how to teach generosity, empathy, resilience, and more! Help Helpen create a generation of helpers.
MSRP starting at $4/month
---
Make them WONDER

Osmo
STEAM for core subjects? Digi gameplay? Thousands of great Amazon reviews? And the kiddos can self regulate? Count us in! The award-winning Osmo works with Ipad or Android tablets. Simply connect to the base of your choice, and watch your LO interact with the screen and the live kit materials for each activity. We are fond of the Genius Starter Kit to well, get started. Perfect way to acquaint everyone with the wonders of Osmo. Check out the educational and play based add on's once you have mastered the Starter kit HERE.
MSRP – $99
---

Yoto Player
A carefully connected speaker. That's what the Yoto Player is. Safe content but a world of audio opportunity for the kiddos. Using the (beautiful to boot) base player, pick an audio card from the extensive book and music selection in the card store, add your own audio or add personal MP3 files, pop it in and listen. Let the kids control the bedtime routine or downtime hours. Join the Yoto Club for even more perks and specials to keep the magic going.
MSRP starting at $99, card kits starting as low as $9.99
---

Skillmatics Spin Art Stations
STEAM is one of our favorite new words and the Skillmatics Spin Art Station is the epitome of this acronym blending all 5 of these processes into one really cool activity. Who doesn't love Spin Art (ok, we can do without all the paint flying everywhere) and going old school on this with colored pens or pencils makes it even better. Great rainy day project, build out the machine with easy to follow instructions, and the kids won't even realize the skills they are focusing on to complete it. Then comes the fun part, get your inner mandala on and create over 1000 patterns with your snazzy new contraption.
MSRP – $24.99
---

Teknikio
Teknikio's mission is to turn dreamers into inventors. Although they focus on girls and STEM, the projects are good for ages 8 -108 and are gender neutral. Each of the awe inspiring kits is an ingredient for your personal tookbox that can be used to re-imagine your environment. Teknikio offers full kits for purchase (we are loving the Shivers the Penguin and Activating Origami kits right now) they also have a great Invention Database utilizing household items to create. The course modules for educators feature music and tech, physics, smart cities and wearable technology to name a few and are 5-15 hrs long as well as being free downloadable content. Definitely consider adding this into your list for your game playing, science loving, STEM kiddos.
MSRP starting at $14.99
You could win a prize from this gift guide! Enter for your chance to win one of three prizes from the Happy Camper Live Holiday Gift Guide and a one-year subscription to Happy Camper Live. Check out our homepage for a 7-Day free trial. Enter the sweepstakes!