Welcome to Happy Camper Live Podcast! Experience the magic of summer camp 365 days a year!
Our first episode focuses on the story behind Happy Camper Live with creator Allison Miller, Owner and Camp Director and Executive Producer Steve Slavkin, Writer, Director and Producer. Listen as the reality and fiction of summer camp led to the birth of the world's best virtual summer camp.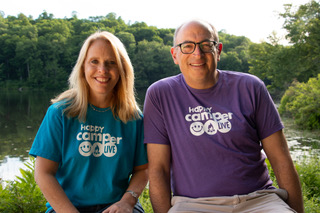 Allison Miller has owned and operated Camp Starlight, one of America's finest summer camps for 20 years, where more than 10,000 campers have had the time of their lives. She is the founder of Happy Camper Live.
Steve Slavkin is a writer and director, best known for creating Nickelodeon's camp comedy hit "Salute Your Shorts." Slavkin has written for Amazon, Disney, Fox, and more, and sets the creative direction for Happy Camper programming.
Episode 1 Summary:
In Episode One Allison talks about how she came up with her idea to create a virtual summer camp that was accessible to any kid no matter financial background or location. She wanted to bring the magic of summer camp to every kid, and had the idea of Happy Camper Live.
After telling her family about her idea, Allison's first call was to Steve. She knew Steve's background in television would bring an expertise to the project, and she was right. Today, Happy Camper Live has hundreds of video activities, a comedy reality series and even a virtual talent show. Kids can also upload their own videos to teach their own expertise whether that be robotics, rocketry or playing the piano.
"It's a wonderful way to get kids up off their couches, and get them active in the world. It's about finding that creative spark and a new thing that they can become passionate about," Steve said in the podcast.
Listen in to learn more!
Tagged:- camp podcast, podcast, summer camp, summer camp activities, summer camp for kids, summer camp podcast