Ever have mushy brown bananas left on the kitchen counter and are not sure what to do with them? Should you eat them? Should you keep them until someone else eats them? Or should you just throw them away?
Well, mushy brown bananas are the best ingredient to use for banana bread! They are easier to mix in with the ingredients because they're already mushy, and to make it even tastier you can even add chocolate chips to the mix. But there is one ingredient that will make your head turn and question why. Mayonnaise is the secret ingredient; a small scoop of mayo will make your banana bread stay moist and delicious. You won't taste the mayo in the banana bread that's for sure, mostly taste the delicious chocolate chips, vanilla extract, and sugar.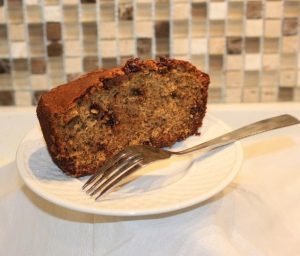 Ingredients:
3 Medium Bananas
1/2 cup Mayonnaise
1 Egg
1 1/2 cups Flour
1 Teaspoon Baking Soda
1/2 Teaspoon Salt
3/4 cup Sugar
Vanilla and Chocolate Chips (as much as you want)
Start Baking
Step 1: Preheat your oven for 350 degrees. Mix your bananas, egg, mayonnaise, and vanilla extract together in a bowl.
Step 2: Mix up your dry ingredients: baking soda, salt, flour, and sugar in a separate bowl.
Step 3: When both are mixed, add them together in one bowl, and add your chocolate chips. Add as much as you want!
Step 4: Coat your baking pan with butter before adding all your mixed ingredients.
Step 5: When the oven is at 350 degrees place your banana bread inside and cook for 1 hour or until it is fully cooked. Make sure to check on it every 10 minutes. You can check by sticking a toothpick or a fork in the bread and if it comes out with batter it is not ready, but if it comes out clean then it is ready. Enjoy!
For more fun recipes, check out Happy Camper Live's Cooking Camp.
Tagged:- cooking, cooking camp, family activities