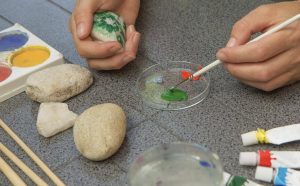 Throw your ideas and make it into art! Explore your talent. Should we start painting stones and turn them into fruit and veggies? It's going to be a lot of fun!
In this activity, you will only need: medium sized and smooth rocks, mild soap, marker, paint, and paint brush.
Let's get this started! Take a walk outside with your parent/s and ask permission to pick some medium sized and smooth rocks. You can certainly ask them for help, acquire as many as possible! Now, clean the rocks first by washing them using tap water and a mild soap. Let it completely dry by the sunlight. Moving on, choose a fruit or a vegetable you want your rock to portray from. For example, a lemon! Next, choose the right color for your fruit/vegetable. For the example of lemon, we will pick the yellow paint. You will then paint the whole rock yellow and let it dry. For the details of the figure, grab a green marker to make a small leaf on top of the pebble. You can also put an eye onto the craft by drawing some circles, or design it by putting googly eyes.
Make as many fruits and vegetables as you can and collect them. You can use it as a decoration on your home or even use it when you're playing playhouse with your friends.
Tagged:- arts and crafts, painting camp