Never stop looking up! Embrace the warmth of our beautiful galaxy.
Make and design your own solar system mobile.
Here is what you need for this activity: eight (8) pieces of wooden sticks, cardboard, string and yarn, coloring pens, paint, paint brush and glue. Should we get started?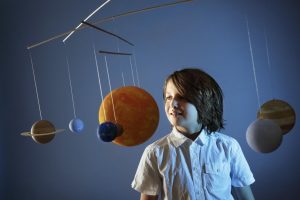 First, get two wooden sticks and attach them together using glue. Secure them by binding them using a yarn. This should result in 4 sets of two-wooden sticks.
Next, attach the two sets of wooden sticks vertically together to make one longer resulting in 2 sets of long wooden sticks. Now, make a figure of X with the two long wooden sticks and bind them as one— this will result as your mobile.
Now, prepare your planets.
Cut out 10 circle figures in different sizes that match each planet and sun. Draw and color the distinctive features of each figure.
What follows is you will have to cut a small hole in each figure and thread a string on it. Tie the strings securely. Each string should be longer in size and equal to each planet as it will be tied up in the mobile.
Finally, grab your mobile and start tying each planet with a string. Place the sun figure at the center and carefully place the other figures. Create a ring for the mobile to hang— grab four equal strings and tie them up in each stick. Attach the ends of each string together.
Your solar system mobile is all set and now ready to be hung up!
Tagged:- arts and crafts, astronomy, science camp