This is a guest blog written by Stephanie Haywood of mylifeboost.com.
When the weather keeps your kids from playing outside, it's important to keep them entertained and engaged indoors. Rainy days can be a challenge, but there are lots of creative things you can do with your kids when they're stuck inside. From movie marathons to trivia games, Happy Camper Live shares some fun activities that will keep your kids entertained on rainy days.
Film Festival
Pop some popcorn, grab your favorite movie snacks, and have a cozy family movie marathon. Take turns choosing movies and let the whole family cuddle up on the couch for an afternoon of laughter and fun. Not sure what movies to choose? Ask each member of the family to pick out their favorite film, so everyone gets a chance to watch something they enjoy.
Dance Party
Let loose and show off your best moves with an indoor dance party. Turn up the music and get everyone in the house dancing around like nobody's watching. If you don't have any music-playing equipment at home, try using an app for streaming playlists that everyone can enjoy. Create themes for each song, like silly hats or funny animal noises.
Arts and Crafts
Encourage creativity with crafts and art supplies. Gather craft kits from around the house or order supplies online, if needed, and let your little ones make their own masterpieces. You can even join in for some quality arts-and-crafts time together as a family.
Scavenger Hunt
Make it easy to keep kids busy by setting up an indoor scavenger hunt. Get creative by preparing clues that lead them through different rooms in the house until they reach their goal at the end, like a special treat. To make things more exciting, you can even add hints along the way, like riddles or puzzles that they need to solve before progressing further in their mission.
Celebrity Quiz
Host a trivia game where the winner gets a prize. You don't need to stick to traditional questions; come up with questions no one expects, like asking how tall a celebrity or fictional character is. With so many resources out there dedicated to the heights of athletes, celebrities, and characters, you can easily find answers online.
Playing Board Games
When the weather's too hot or stormy outside, why not break out some fun board games to keep your kids entertained? Not only do board games provide hours of entertainment, but they also help build important brain development and problem-solving skills. Whether it's a classic game or something new, your kids will love it.
Make a Game Out of Tidying Up
Transform your home into a refuge of comfort and positivity by making cleaning and decluttering enjoyable. Involving the kids can help, as they will be more enthusiastic with their favorite music or friendly competition. Not only is it fun while they do it, but it also provides stress relief through self-care and creates a healthier home environment.
Quiet Reading Time
Dedicating time to reading can be a great way to entertain your kids. Not only will they stay engaged, but they also gain new knowledge in a variety of topics, too. To make sure reading material is age-appropriate for your child, take some time to research. Use this weather as a chance to foster their love of literature.
Family Bonding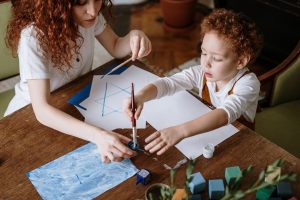 Spending quality time together is a great way to keep your kids entertained during inclement weather. Kids away from screens and devices can be rewarding for both parent and child while they gain the opportunity to strengthen bonds. Turn this into a memorable family experience that you can look back on fondly.
Keeping kids entertained on rainy days isn't always easy, but there are plenty of ways to avoid boredom while still having fun indoors. All these activities will help fill up those rainy day hours, so no one gets bored. And most importantly, remember that spending quality time together is always worth more than any other activity, so don't forget to take breaks in between, as well.
Tagged:- family activities, Rainy day