Make your own puppet! Be creative and put your imagination into action.
Play and create a theater with your friends!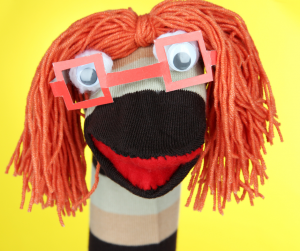 Let's first check what we need for the puppet:
• Used or old socks
• Yarn
• Art craft/papers
• Marker
• Scissors & Glue
For the theater:
• Any used box
• Paint
• Ribbon
• Scissors & Glue
• Any decoration/s
• Printed background/s
Shall we start your masterpiece?
Step 1. Start with the theater first.
• Open your used box, cut a rectangle shape in the one side of the box which serves as the screen for the theater. Paint it with your color of choice, let it dry.
• Get your ribbon and use a glue to stick it to both sides of the side where you cut a large opening of the box.
• Cut a colored paper and make it like a stage, put some decorations on it. Put glue and stick it on the top of the large opening. Let it dry.
• Use any background to make it more interesting.
Step 2. Prepare your puppet.
• Get your old sock, put it in your hand.
• Choose where to put your puppet's eyes. Use a marker to draw where the eyes would be located. Design it however you want.
Step 3. Making the puppet's mouth.
• Spread your sock, the bottom part should be the one facing you.
• Grab your art paper or craft and cut it in the same shape and size of the sole of a sock.
• Apply the glue on it and place it on the sole of the sock.
Step 4. Attach the puppet's nose.
• Flip over your sock.
• For the nose, use a pompom or anything round like a bead or cut from your art craft.
• Stick it on the edge of the sock, let it dry.
Step 5. Add hair to the puppet & dress it up!
• Grab the yarn and cut plenty of strips of it.
• Put a glue on the top of the head of your puppet, a few inches above the eyes. Stack the strips of the yarn.
• You can use any decoration/s for the body of your puppet, located on the lower part of the sock. You can make a necktie, or even make a dress by cutting colorful art craft!
Step 6. Gather your friends and create a theater!
• Let the glue dry first.
• Grab and prepare your own-made theater.
• Call your friends!
• Assemble your puppets.
• Create your theater scene, have fun and enjoy!
This is going to be a lot more fun! Create memories and play with the people you love!
Tagged:- arts and crafts, family activities, homeschool activities, theater