Do you have plans for the weekend? How about experiencing a real fun adventure with flying your kites? How high can you go? Head out and see! Up in the sky!
In this exciting activity, you will have to prepare the following materials: colored paper, scissors, wooden sticks, string, ribbon, strong adhesive tape, and colored pens.
Let's get this started! Get your colored paper and fold it into half. Make a plane guide for the kite. Mark the top edge of the paper and leave about a few cm from the corner. From the mark on the top edge, make a line going down leaving a few cm from the corner on the bottom as well. It should look like an angled line. Do it on the other side as well. Now, for the first side of the paper, fold it according to the guide you have made. Make the same on the other side of the paper and make sure the ends will match and meet to the first one. You will then unfold the other side of the paper while the front side should remain folded. Tape the fold that is in the front.
Next, grab the wooden stick and place it across where both corners are present. Tape it and make it secure. It should look like a paper plane with a fold under the figure. For the fifth step, make a hole on the down part of the kite and cover it with a tape to make it sturdy. Cut again through the taped-hole and insert a string on it. Tie it securely.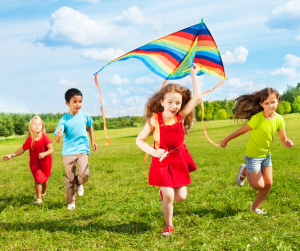 To make your kite beautiful and creative, decorate it according to what you like. You can attach ribbons on the lower part of the kite, but only attach a few of them to make sure the kite will fly. You can even design the kite by drawing anything on the paper. Enhance your kite and make it beautiful!
Tagged:- arts and crafts camp, family activities, outdoor activities