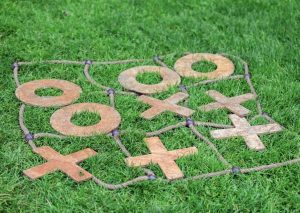 Instead of purchasing, why don't you create your own Tic Tac Toe game while exploring the beauty of nature? Head out and see for yourself what you can utilize for creating your game!
You will have to prepare the following for this activity: twigs (four), pebbles (bigger size), white paint, and paint brush.
First, head outside and look for something that can work for your tic-tac-toe board. Any will do! As long as it has a flat surface. Next is you have to collect 4 twigs, all twigs should be straight and have the same length for the game. Now that you have the body of the game structure, grab as many pebbles as you can for the X and O. It is much better if the pebbles are bigger! The next step would be drawing X and O on the pebbles using your paint brush and the white paint. Both of them should have the same count.
Set up the board and put the four twigs to make it a size of 3×3 surface. Now, you're all set! Play this game with your friend!
Tagged:- arts and crafts, family activities, family game night