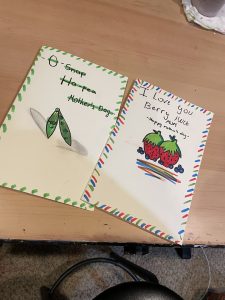 Want to make your own Mother's Day card but tired of writing the boring "Happy Mother's Day" line? Make it artsy and be creative with what you write. Below is a list of 16 creative things you can write instead of just "Happy Mother's Day."
1) Mom, you light up my life!
2) Ha-Pea Mother's Day Card
3) Home is where Mom is
4) Mom you're PEARfect
5) Moms are angels on earth!
6) Thanks for always showering me with love Mom!
7) Love you bunches Mom!
8) If Moms were flowers, I'd pick you!
9) You're one in a Minion, Mom!
10) You're GRRReat Mom!
11) I love you Maaaa!
12) I love you Berry much!
13) Happy M-uddders Day!
14) Mom, you're great and I'm not Lion!
15) Thanks for raisin' me Mom!
16) Mom you're the best!
Tagged:- arts and crafts, arts and crafts camp, Mother's Day