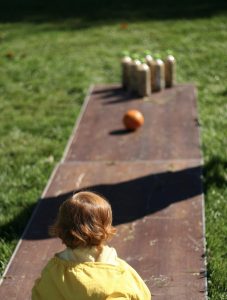 Strike! Are you ready to go bowling with your friends? Create your own bowling set-up! This is just so easy to make! You can go bowling whenever you want with your friends. You go guys! Knock all the bottles off, leave no standing!
In this activity, you will simply need: empty used plastic bottles, ball, sand or pebbles, and white tape.
Firstly, grab your plastic bottles and fill them with a few amounts of sand or pebbles just to make it stand on its own firmly. Now, you can use as many empty bottles as you want. It would be more fun if it's a lot! In the first row, place one bottle. For the next row, two bottles; third row, three bottles and so on. Don't forget to fill them with a sufficient amount of sand or pebbles to make it sturdy! Certainly, you will have to make the goal line, step backwards for about 10 steps away in your decided line. And place the white tape on the ground.
You're set to go! Take the ball and roll it on the ground towards the bottle pins. Knock bottle pins over as many as you can! Show them your competitiveness!