Be the light, make your surroundings shine! Below are the materials you need to make a Mason Jar Light. Check out also the indicated Spanish words and learn every use of these materials.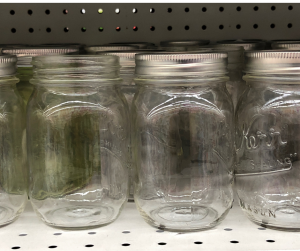 The first one that is significant in making this artcraft is the mason jar. In Spanish, this is called tarros de cristal. This is used to store foods or anything for everyday use. Next is the scissors, also known as tijeras – this is a cutting tool with two sharp blades. Be careful when using these! You will also need glue, or pegamento. This can be utilized to stick things or objects together. Additionally, you need glass gems for the inside beauty. This is known as gemas de vidrio in Spanish, this is also to fill vases, it makes anything splendidly beautiful. Moreover, popsicle sticks also known as palo de paleta, should be included in the material list. Not the ice cream itself, but the one that holds it! This is commonly used for arts and crafts. Don't forget the glow sticks, or barra luminosa – this provides a good source of cool lights. Lastly, a tissue paper, or papel higiénico. It can magically make our craft cool and amazing!
You will just need a few materials. Why don't we jump into making one?
Step 1
Take off the cap of your mason jar and set it aside.
Step 2
Dip your popsicle stick in the mod podge and wipe a small amount onto a small piece of tissue paper.
Step 3
Stick the tissue paper anywhere on the outside of the jar. Continue doing this with the tissue paper in any pattern you want. Be sure to leave some space in between the tissue paper so that light can show through the jar.
Step 4
Do not put too much glue on each piece of tissue paper or it will ooze out and show. If you do accidentally put too much on, you can cover it up with another piece of tissue paper.
Step 5
Decorate the bottom of the jar. Put the glass gems or rocks inside the jar (fill it about halfway).
Step 6
Let it dry.
Step 7
Crack the glow sticks and place them inside your jar.
Tada! You have now your own Mason Jar Light! You can also use it as a nightlight. Why don't you try and create a piece of art yourself? You're going to be amazing at this!
Tagged:- activities for kids, arts and crafts