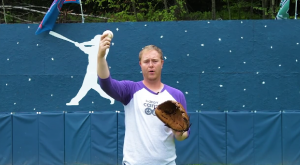 Are you ready to step up your baseball game and become the ultimate fly ball catcher? Well, you're in the right place because we've got some awesome tips, drills, and games that will help you become a master of the skies on the baseball field!
Catching fly balls is a crucial skill in baseball. Whether you're playing in the outfield or covering the infield, knowing how to catch those high-flying baseballs can make you an invaluable player on your team.
These drills and games will help you hone your fly ball-catching abilities.
Pop Fly Drill
Have a friend or coach hit pop flies to you. Start with easy ones and gradually increase the difficulty. This will improve your timing and judgment.
Wall Ball
Find a wall and throw a tennis ball against it. As it bounces back, practice catching it. The unpredictable bounces will help sharpen your reflexes.
Bucket Challenge
Grab a bucket and have someone toss baseballs into it. Try to catch as many as you can. This drill improves your hand-eye coordination.
Fly Ball Relay
Set up two teams. One team hits the ball into the air, and the other team tries to catch it. Each catch earns a point. Switch roles after a set time or number of catches.
Fly Ball Derby
Imagine you're in a home run derby, but instead of hitting, you're catching fly balls! See how many you can catch in a row without dropping one. Challenge your friends to beat your record!
Becoming a fly ball-catching superstar takes practice and patience. Don't get discouraged if you miss a few catches. Every great baseball player started by improving their skills one step at a time.
Watch "Episode 16 – Baseball Ukes and Tapping Toes" of Kidoodle TV to learn the fundamentals to catching field fly balls with baseball.
Tagged:- baseball, kidoodle tv, sports camp