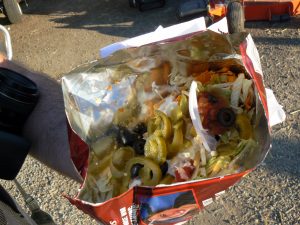 Have you ever had a regular taco before and realize how messy it can get with the meat falling out of the taco or the taco shell breaking into small pieces? Well, this is where the walking taco comes into play. No plates no bowls are needed here. Just a personal sized chip bag, a fork, and your favorite taco toppings. You can eat this taco anywhere without worrying about getting your hands all greasy from the meat or having to even wash dishes afterwards too… well your parents won't have to worry about washing dishes.
This is a great snack to consider making for your upcoming Super Bowl viewing party with the family!
Learn How To Make Walking Tacos
Ingredients:
Personal chip bags- Doritos, Fritos, Cheetos, etc.
2 pounds of ground beef mixed with taco seasoning
Favorite taco toppings such as lettuce, tomatoes, guacamole, shredded cheese, or sour cream
Directions:
Step 1: Cook ground beef in a pan and make sure to add your desired amount of taco seasoning.
Step 2: Once the meat is cooked spoon it into your favorite chip bag.
Step 3: Add as many toppings as possible to your "taco" and enjoy!
Don't forget to go back for seconds. Grab more fun recipes from our Happy Camper Live Cooking Camp!
Tagged:- campfire cooking, cooking, cooking camp, super bowl