Invited to a football party but not sure what to bring? Here are a few appetizers you can try that will have everyone wanting seconds, and even asking you for the recipes so they can make it themselves when they get home.
Bacon-wrapped Pepper Poppers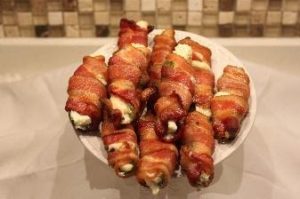 With only 3 ingredients these pepper poppers will have your mouth watering. All you need is bacon, jalapeno, and cream cheese. You'll need to preheat the oven to 400 degrees. Clean the peppers and cut them lengthwise, after carving out all the seeds from the peppers. From there you will fill the poppers with cream cheese and wrap in one slice of bacon. Cook for 20 minutes or until the bacon is fully cooked.
Chili Cheese Dip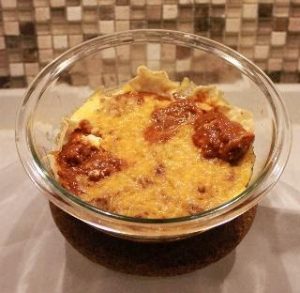 Bring out your favorite chips with this delicious dip. Just 3 easy ingredients: cream cheese, chili, and cheese. For your first layer, add all your cream cheese to the bottom of your bowl evenly. Second, spread your chili evenly over the cream cheese. For the third and last layer, add all the shredded cheese you want! It could be mozzarella, cheddar, provolone, blue, gouda, etc. Once all the layers are added put your dip in the oven to cook at 350 degrees for 25 minutes.
Chicken Bites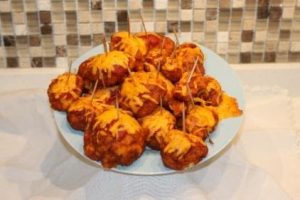 Want something simple and easy but also elegant looking? Then these bites are the perfect thing. Grab your jar of marinara sauce, shredded cheese, and a bag of frozen popcorn chicken. Preheat your oven to 450 degrees, and spread your popcorn chicken on top of the cooking sheet. Remember to spray nonstick cooking spray first! Cook for 15 minutes. When done cooking you will add a spoonful of marinara sauce on each piece, once done cover the popcorn chicken with your chosen cheese. To make it fancy, you can add toothpicks or mini serving forks to your bites.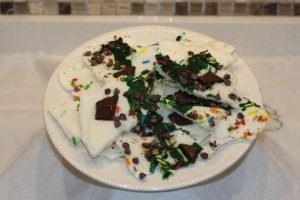 Frozen Yogurt Barks
Need a cool refreshing dish to bring to your party? This frozen treat is perfect. Just grab your favorite yogurt and any toppings you'd like. Grab your baking pan and add foil on top so you can pour the yogurt on. Spread the yogurt evenly on top of the foil and add your favorite toppings like chocolate, gummy bears, sprinkles, etc. A healthy alternative would be to add strawberry, blueberry, raspberry, apple slices, or any type of berries. After adding your toppings, pop it into the freezer overnight or for 8 hours.
Beware that if left out it will melt fast, so stick it in the freezer when you aren't eating it.
Guacamole
You can never have too many dips at the party, so why not bring another one. This will be the best guacamole that'll have the party raving! You'll need to cut 2 tomatoes, 5 avocadoes, for some spice add 1 serrano pepper, and 5 pinches of salt to start. Once that is all cut up, mix them in a bowl together until desired texture; chunky or smooth. After its mixed cut and squeeze half a lemon over the dip, then mix it one last time. Voila, there you have it, another great dip for the party.
Football Rice Krispie Treats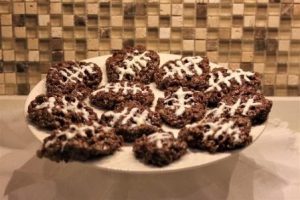 Football-shaped treats will show you're really into the football party spirit so why not make a themed dish for the party. Use Cocoa Pebbles cereal to create the brown-colored footballs. In a cooking pot melt 6 tablespoons of butter and then add in 2 cups of marshmallows. Once those ingredients are melted remove the pot from heat and mix in 6 cups of cereal. Put everything on a sheet pan evenly spread out. Let it sit for an hour, then cut your snack into football shapes and enjoy!
Sheet Pan Nachos
Nachos are always a party-time favorite and the easiest of recipes because all you need is the nachos, cheese, and toppings! Grab a sheet pan and cover it in foil so the cheese doesn't melt and get stuck to the pan. Spread your favorite nacho chips all over the pan, add as much shredded cheese you'd like on top of the chips. Then on top of the cheese, add any toppings you'd like, such as black olives, jalapenos, diced onions, tomatoes, meat, or chicken. Bake your nachos in the oven at 400 degrees for 3-5 minutes so your cheese can melt. After it is finished baking you can add avocado slices or sour cream on top of your dish.
We hope you enjoyed these recipes! Check out our Cooking Camp for more great suggestions.
Tagged:- cooking, family, football, football snacks, sports