Every April people get outside to celebrate National Park Week from April 16 to April 24. This year, look up a National Park near you and enjoy the fresh air with one of these activities.
Read on to learn how to enjoy a day at a National Park.
Do Your Research
To enjoy a day at a National Park, it's important to do your research. Look up the National Park you plan to visit, and check out its amenities. Know whether you need a pass, what time of day you are allowed to visit, and general directions too. Your cell phone service might not be great when you're in the middle of a park, so printed maps could be helpful. Research whether there are rivers or lakes, the types of trails, and what other activities could be available. Make sure to dress for the weather, wear hiking shoes, and always be prepared. Pack snacks and water, and other emergency supplies such as medical supplies or communication devices. Make sure your cell phone is charged up before you leave home, and let family members know where you're going in case of emergency.
Nature Scavenger Hunt
Make a list of different things you can find in nature, and look for those items while exploring a National Park. Some examples of commonly found items include: pinecones, acorns, mushrooms, a spider web, leaves, a bird, or other specific plants. Take pictures with the items and then you'll have fun memories to look back on at the end of the day.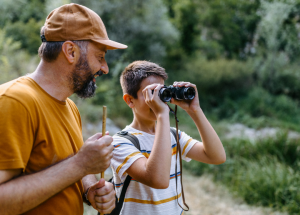 Try Birding
Birding is a fun activity that just requires a pair of binoculars. There are tons of bird guide books out there explaining how to tell what types of birds are in an area, and there is also a lot of free information on the internet. Spend the day looking for different types of birds, and log all of the ones you find into your own bird book. The Audubon Bird Guide app is a free and complete field guide to over 800 species of North American birds that can be downloaded right to your phone.


Go For A Hike
Pick a trail and go for a hike. Most people go to National Parks for the quiet, the nature, and the views. Pick a trail and hike to the top, or hike to a lake. No matter what trail you pick, the views will be worth the walk. Remember to stick to the trail so you don't get lost, and observe trail etiquette such as hikers coming uphill have the right of way. If you're on the way down, step aside and give room to the people climbing up.
Pack A Picnic
National Parks have stunning views and many feature picnic tables. Pack your favorite lunch and plan on a picnic in the park. Enjoy a delicious meal while taking in the beautiful scenery.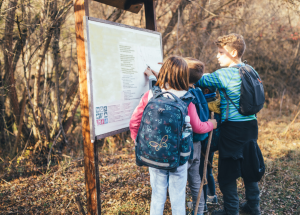 Go Geocaching
Turn into a modern day treasure hunter. Some National Parks have geocaches you can hunt for. Search your Geocache app for locations to see if a National Park near you has a geocache hiding nearby.
Remember, some "caches" may be cleverly disguised, but they are often small containers made of metal, wood or plastic. They are hidden, but not buried in a place where they won't be tripped on or completely missed.
When you find the cache, check inside to see if there is a logbook or small treasures inside. If you brought something to share, leave it inside or trade it for something else inside. Put the geocache back exactly where you found it so the next person can find it.
If you love the outdoors, check out our outdoor adventure camp to learn useful skills for your future outdoor adventures.
Tagged:- family activities, national parks, outdoor adventure