Staying the night in and can't figure out how to keep you and your family busy? Have some fun with these activities for all ages! Family fun nights are important to stay connected and create memories with your loved ones.
Charades – How many of these can you act out and have the other players guess correctly?
Here's a list of some words you can try to act out or you can choose your own!
• Swimming
• Fishing
• Rock climbing
• An owl
• Rock skipping
• Roasting a marshmallow
• Magic trick
• Using a compass
• Spraying bug spray
• Binoculars
• Grilling
• Setting up a tent
• Chopping firewood
• Park ranger
Fort Building – Can you build a fort with what you have at home?
Materials: Blankets, pillows, and chairs
Optional: Couch cushions, clothes pins, whatever you have available!
1. Clear some space up, either in a bedroom, the basement, or the living room! You want lots of space to build your fort.
2. Set up the chairs and begin draping the blankets over the chairs, add the couch cushions on the floor, add some pillows for your heads, and keep everything secure with some clothes pins!
Lip Sync Battle – Who knows their favorite song word for word?
Everyone chooses a song they think they know by heart and each person will pretend to sing their song, along with the music, by mouthing the words. Who knows the words the best?
Paint Night – Let your inner artist shine!
Materials: Pre-made paint kit or acrylic paints, paint brushes, and canvases
Optional: Easels
1. Set up paint stations and lay all materials out
2. Paint freely or come up with a theme or challenge for your paint group!
3. Show everyone your awesome artwork!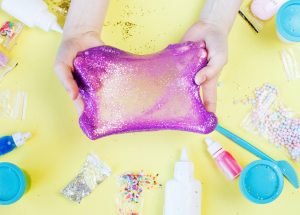 Slime Time – What slime recipe will you try?
Materials: Mixing bowl and a measuring cup/spoon
Optional: Food coloring, glitter, beads
Slime Recipe 1:
• 1 tbsp Baking soda
• 1-2 tbsp Contact saline solution
• 1 cup School glue
Slime Recipe 2:
• 1 cup Warm water
• 1 tsp Borax
• 1 cup School glue
Combine your slime ingredients to make a fun goo and add food coloring, glitter, or beads for your own personalization!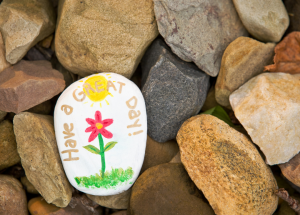 Kindness Rocks – Make someone's day with a kind message!
What are kindness rocks? They are a popular craft and trend where you design a rock with paint and kind words or an inspirational quote!
Materials: A rock, paint, paint brush, and permanent marker
1. Find the perfect rock
2. Wash your rock
3. Give your rock a base coat
4. Add a positive message or drawing
Tagged:- activities, family activities, family fun