If you are like us, there is constant white noise through the day. Our favorite is music of any kind just lulling in the background. It makes the most menial chore or activity more fun. There is so much to be said about music and sounds starting from birth, and the troves of musicians and commercialization of the industry in the world are a testament to just that. Herewith, have a gander at our favorite Top Picks for the Musical Camper! Break out your earplugs and we are sorry in advance!
KidiStar DJ Mixer & BlipBox After Dark
Have you been jonesing to relive your club days from just a wee back when? Well you can live vicariously through your little ones with the KidiStar DJ mixer from VTech. With over 2,000 sound effects, your aspiring DJ can scratch and mix to songs already embedded or sync via bluetooth to their own playlists. Add vocals to tracks, create a mash up then show those skillz at the next family party. For the too cool for school set, check out the BlipBox After Dark. Similar to the KidiStar DJ mixer but with added MIDI outputs for instrument connection and more advanced modules for making their own tunes.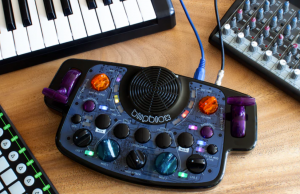 Lots of your fave electronics stores carry the VTech option so hop over to Amazon, Target, or Walmart to shop, wherever your loyalties may lie. BlipBox can be found at many mom and pop shops across the US, choose your poison here.
MSRP – $54 & $199 respectively
---
8Notes
Think of all those trees you can save by purchasing sheet music for the songs (not books) that your kids want in addition to the compulsory tracks needed to learn their chosen instrument. 8Notes.com has thousands of songs to choose from by style and country for most of the common instruments including voice. The classics are sorted by composer as well. We particularly like the resource page, it's chock full of obvious extras like blank sheet music, chord charts and a metronome, among others, that you may not have laying around. Get started with some mini lessons on Happy Camper Live's Keyboard Camp
FREE but there is an annual subscription model with additional perks for a whopping $20.
MSRP – $20
---
Wireless Express Mini Bluetooth Boombox
We are legit obsessed with this blinged out throwback to our younger years. Wireless Express has a long-standing reputation in the electronics industry. These mini Boom boxes come in a variety of colors and patterns to fit everyone's finicky taste. But the rainbow bling takes our cake. Also available in ombre, camo, retro, leopard, and more. Since kids now need choices, the amenities include Bluetooth, FM radio, LED light up, dancing speakers, stereo sound, aux input, SD and USB input, remote control, rechargeable battery, and a charging cable. To complete the look grab this super adorbs boombox pinafore dress or shorts.
Of course the boombox is available at Amazon if you need the points, but we love supporting local like Maisonette.
MSRP Starting at $49.99
Tagged:- gift guide, music camp, music camps for kids