We're back with our Holiday Top Picks for 2022. There are some great ideas here for kids of all ages. We hope you have as much fun checking out our suggestions as we did hunting and finding them!
CREATE
The Woobles
Do you watch those needles and fingers moving in random places and wonder, hey I want to learn how to do that? The Woobles kits are perfect for those of us who want to learn to crochet and really doubles as a kit for your kid (I mean let's face it, a grown-up should be making a blanket, not Pierre the Penguin, am I right?). Easy-to-follow instructions, step-by-step video tutorial, pre-started piece (key point here) and easy peasy yarn are all included for your first foray. Word has it that once you get hooked, ha ha, you will be obsessed. There is a combo kit available for your own zoo and even super cute accessories, including a miniature coffee cup, for the new animals in your life.
MSRP $25 for kits on Amazon or the entire collection HERE.
I'm the Chef Too!
While we are still obsessing over subscription boxes, I'm the Chef Too combines our love of food, with STEM, art, education and independence. Maybe some math skills while we are at it. We are pretty partial to the Geode cupcakes and the Pancakes Pets. Also available to purchase month to month or longer. If the kids like to cook but need some hands-on practice start with this.
MSRP starting at $36.95, find all the cool kits here.
We Craft Box
We love a good subscription box to keep the kids occupied on a rainy day. We Craft Box does just that and it's shareable! Pick from month to month, 3, 6, or annual subscriptions. Each box comes with 4-5 curated crafts. There is enough material that a friend can crash the party. How-to Videos, instructions and all materials needed accompany the themed monthly box. The Holiday Special is 30% off right now (no code needed) at Amazon on your first box purchase. A good reasonably priced bet for your crafty kid this holiday season.
MSRP starting at $34.99 at Amazon
Supermix Studio
Taking customization to the next level, Supermix Studio's new online pop-up allows the creation of the perfect Whoa hoodie and sweats that will be the envy of the locker room. Pick your piece (hoodie, sweats, denim jacket, backpack or a trucker hat) and go to town with over 100 patches to choose from in a multitude of categories for your little fashionista, gamer or dino-loving kiddo and much more. Mix and match colors, sizes, patterns and materials and place them in the exact spot to avoid the tantrum. Genius Mommy and Me sets are adorbs. Each piece of swag comes with a set amount of "Patch Points" built in to design the perfect item. More points can be purchased if more bling is needed. The perfect gift for the little one that has everything.
MSRP $39.95 and up at Supermix Studio
PLAY
Sundercover
Behind the necessity of invention is a mother who cannot find what she is looking for. Two moms developed Sundercover to keep harmful UV sun rays away from their family with all of the outdoor time they spent. Not all apparel comes with UV-blocking technology so these functional and awesome hat liners were created in response. Sundercover works with virtually any size or shape hat for kids and adults. Made in the USA, all liners are moisture-wicking, with a UPF 50+ rating and come in many colors in a cap or round style that is easily inserted and removed from any headwear. Everything is machine washable. Read up on some pointers and facts about sun and skincare on the Sundercover Shedding Light Blog
MSRP starting at $22 Here
Victory Gaming Headset
Comfort, function and light on the wallet all in one with the ThinkWrite Technologies 250XG Victory Gaming Headset. Major brand name sound, connectivity and comfort without the major pricing for the esports gamer in your life. Ergonomically-designed, soft contour ear cushions that provide 100%-contact around the ear, minimizing external noise infiltration and improving sonic quality in a moisture-wicking fabric may have your kiddo buried in zombies and race cars for the night. The new Silicon Flex microphone ensures constant chatter among competitors without interference.
MSRP $39.99 on Amazon
Chasing Paper Wall Decals
Freshen up the bedroom or playroom walls this season with Chasing Paper's Wall Paper Dolls or Alphabet decals. Little Susie can choose from Cleo, Nellie and Lucy to create her own life-size paper doll and mix and match her outfits daily as they come to life on her wall. Her brother can practice his ABCs while making wall words or play with Oliver, Teddy or Leo for the perfect school clothing statement. The toddlers can set the candles for Chanukah this year without the threat of burning the house down or decorate the tree without the pine needles everywhere. All peel n' stick wallpaper pieces are die-cut and can be easily removed without surface residue. I also should mention the adult line of wallpapers is spectacular for all rooms!
MSRP $45 and up on the Chasing Paper website
DISCOVER
Keke Bags
Keke (which stands for "keep every kid engaged"- brilliant ) is a woman-founded company that offers a super cute, modular, grab-and-go bag with pouches full of educational and fun activities, and room for other essentials. You can grab one pouch with the pouches, or simply purchase the pouches on their own or go for it and grab the initial bag and follow it up with quarterly pouches so the activities are never-ending. Four vibrant bag colors to choose from to fit all creative minds. Read about the inspo behind the brand and the activities.
MSRP starting at $39.99, see everything here
Clixo
Do you have a future Frank Lloyd Wright at home? Tired of Legos and Lincoln Logs? Clixo is a multi-sensory, magnetic building kit that can be created in 2D and 3D, the first of its kind. By combining Origami sensibility and magnetic pieces, your analytical-minded kiddo can create to their heart's content. Great for travel, mess free and eco-friendly. Start with the challenges once you have your kit on hand. All Kits are 20% off right now, shop early Black Friday deals.
MSRP $29.99 and up on the Clixo site, or if you are jonesing for Amazon Prime check out the store.
INSPIRE
Move for Hunger
Move for Hunger has been helping families across the US for over a decade by mobilizing its network of relocation experts to move excess food and beverages to food pantries and food banks in desperate need. In 2021 alone the network moved 4.8 Millon pounds of food to help those in need. Even if you are not moving and dumping the contents of your fridge, you can help. Your 5-year-old can help and start to understand the reality of hunger in our country. Food Drives are a great place to start. Your local food banks, shelters, and soup kitchens rely on the donations they receive from people like you to help keep their shelves stocked. Food drives are also a great way to raise awareness about hunger and inspire others to take action. The stats are staggering – 1 in 6 Children Go Hungry Daily, 1 box of Donated Food can Provide 25 Meals and it happens in EVERY community. Consider a Thanksgiving or Holiday dinner box with all the fixins. Set up a lemonade stand style, send out a wish list to friends and family, pass out flyers at your local market. All of it makes a difference in someone's life. Use this Toolkit to jumpstart your actions, and if you sign up and commit, Move For Hunger will help out with marketing materials and pick up info and connect you to a local recipient for distribution.
MSRP – FREE!!!!
Rebel Girls
Raising girls is hard, there I said it. Rebel Girls uses real-world content, experiences, community and real-life stories about amazing women to help uplift generations to come. Girl Empowerment is their superpower through their book series (over 8 million sold), accessories and digital footprint. We want our girls to be uplifted and inspired to do ANYTHING. The App is a wealth of coolness with its audio stories, soundscapes and more.
MSRP starting at $9.99 on the Rebel Girls website or Amazon
National Wildlife Federation
National Wildlife Federation has been around for what seems like forever with their mission to support wildlife and our natural resources. If you are raising a nature kiddo, the Ranger Rick Adoption Kit is a great give-back choice this season. Each kit comes with an eco-friendly, sustainable plush, a wild animal adoption certificate, a species fun fact card and a decal of appreciation that a tree was planted for wildlife with their donation.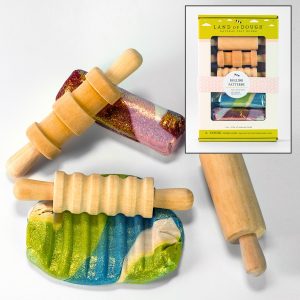 We are in love with the sustainable Land of Dough faux baking kits and the animal snack bags this year as little add-ons that are still good for the earth.
MSRP – Shop on the NWF page starting at $6.99
WONDER
OG Slime
Slime has long been banned in my house (even goo gone can't help 100% of the messes). My kids know it. However, when I discovered OG Slimes I had to make an exception to my rule. With new themed slimes each week and super creative ready-to-go slimes like Berry Cobbler Filling and Cyclops Monster Bingsu my kiddo is in heaven and can't decide which to get first. I will admit the calming effect it has on my daughter and that is reason enough to go a little lenient on the ban for the time being. All OG Slimes come in various colors, scents (did someone say Pickle Juice???), and cool textures for the tactile little one in your life.
MSRP starting at $9.99

Happy Camper Collection
For Cozy nights and days, check out the Happy Camper Live Collection of swag, get your baseball cap for the high pony, cozy PJs, sweatshirt and sweatpants for those cool nights and have a looksee at our Campfire Collection. You can't go wrong with a Happy Camper Live subscription, the gift that keeps giving all year long!
MSRP Shop The Happy Camper Live Store starting at $25.oo