Who doesn't LOVE packing for camp? The camp roll, the squish of extra items because your kid can't live without that under the bed thingamajig, the 15th color tutu, or 3rd trading card album. We get it, and although you may just give in to all of it to avoid the tears or door slam, check out our faves below. So at least you know the extras are making a practical difference as well as being fashionable and the envy of the cabin. Henceforth – the 2 is here, the 10 is in the past and these are our Top Picks for your Ultimate Packing List!
KicksBy Sammy
We are obsessed with the KicksbySammy line of well, everything, and the colorful and fun designs Sammy draws. Sammy started painting kicks for her friends in college and it quickly skyrocketed to a very legit biz model like no other apparel and accessory bold and hand-drawn artwork out there. A rainbow of colors on every piece, something for boys and girls (and parents!) alike that they will not hide underneath the bed. It started with Towel Wraps, zipper pouches, bath mats, our favorite pillow and more. This spring they introduced the must- have Camp Collection and offer personalization to over 50 camps on their most popular items. Check out the capsule collections as well and a percentage of every online order goes to charity in honor of Samantha's grandmother.
MSRP – $25 and up, camp or name personalization available on most items for an additional charge, shop now, what are you waiting for?
Mighty MP3 Player
Every camper needs some tunes for camp in the absence of electronics. Yes, they are full force all day long but there is definitely downtime and quiet moments where music is welcome. Yeah you can buy one of the million MP3 players out there or risk the ipod, shuffle or other Apple device not coming home from a long summer away at camp. But why when the perfect solution is the Mighty Player. Super compact, durable, blue-tooth enabled, wired headphones accepted. Grab a snazzy carrying case to hold it. But the best part??? You can connect it to your Spotify playlist! No more downloading, burning discs or SD cards. The catch is that it needs to be updated monthly, but hey that's what visiting day is for!
MSRP – $119 – choose from blue, bright red or classic black.
Primary.com
Whether your camp is a fashion show or uniform based, Primary.com is your one-stop shop for the entire rainbow of basics and then some for camp. From solids, to stripes & rainbows to polka dots and more, tanks, short sleeve, long sleeve, UPF layers, shorts, oh my! For a limited time they are offering a Camp Shopping concierge, simply email them at camp@primary.com with your list and they will compile, fill your cart, send it back with pricing to approve and place the order. Easy Peasy.
MSRP – $9.99 and up. 25% off all Tees and Tanks for a limited time
Stationery – Let them Write!
You want the kids to write home? Get them stationery they love. We love IScream's send and seal pads. No envelope needed, sealing stickers included and the writing section is small enough to satisfy them, and big enough to get some key details out so no one is worrying. A variety of themes will make your gal feel fuzzy. No, they didn't leave the boys out, but not as many choices to peruse. Honestly there is a bevy of choices out there for everyone.
MSRP – $9.99 and up on Amazon
Beddy's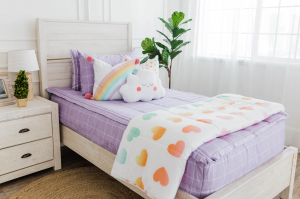 Hospital corners not your kiddos thing? Yeah, not ours either, but when those neatest bunk awards come around you can bet your kid is the one with the mop and bucket in thier hands, along with making those hospital corners work! Insert Beddy's, the all in one sheet and blanket. It fits on the mattress like a fitted sheet, wrapping around in entirety. Simply unzip the sides, crawl in and zip back up to sleep like a baby. In the morning, zip up the sides, fluff the pillow and voila, bed is made! Lots of contemporary styles and colors for BOYS and GIRLS and of course a full suite of matching accessories. Don't worry, they've got the parents covered too and if you drop the kiddos at camp and hop in your RV, check out the Beddy's RV line – brilliant
MSRP – $209 and up
More Camp Tips and Tricks
Happy Camper Live is always here for the best summer info and we love to share our experiences and tips. This series of videos will impart a wealth of knowledge on everything from rain plans, hiking, insects to cabin fun and more.
Tagged:- gift guide, packing for camp, summer camp