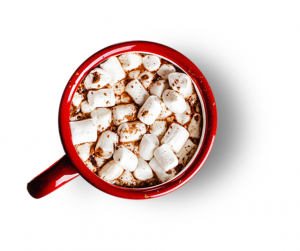 There's nothing more relaxing, nostalgic and indulgent with a cup of hot cocoa and devouring roasted marshmallows around a campfire. Make one for everyone, gather around with friends!
Take this list for what we need firstly:
Campfire or any location that will make you feel relax this holiday
Comfortable seat
Blanket
For the hot cocoa:
2 cups of milk
2 tbsp cocoa powder
2 tbsp honey or maple syrup
½ tsp vanilla extract
For the marshmallow s'more:
Marshmallow
Stick
Campfire or grill
Your parent/s or guardian/s help
Step 1
Prepare the location and the ambiance.
Choose the location that will make you relax.
Prepare the campfire. Use someone's help and be careful!
Grab some seats and make it comfortable.
Fix and put the blankets to warm up.
Step 2
Prepare your hot cocoa.
Get a saucepan and warm up the milk.
Put the cocoa powder, honey and vanilla extract. Whisk it together.
Make sure that there's no lumps.
Serve warm.
Step 3
Make delicious s'mores!
Get help from your parents or guardian.
Put the marshmallow onto the stick.
Roast the marshmallow using the campfire or grill, be careful!
Low fire would be the best for s'mores.
Step 4
Gather your friends.
Make yourselves relaxed and comfortable.
Enjoy the ambiance.
Drink your hot cocoa & devour the s'mores.
Share stories.
Sing along!
Make wonderful memories with the people around you. Cherish each time with them this winter!
Tagged:- family activities, homeschool activities, winter activities