Pennies might be the smallest denomination of currency, but they can be worth their weight in gold when it comes to engaging children in entertaining and educational activities. As a parent or caregiver, you don't need to break the bank to keep the little ones entertained.
Try these fun activities with pennies!
Penny Sorting
Create a sorting station with different containers labeled with categories such as "heads" and "tails," "old" and "new," or even by year if you have a collection of older pennies. Kids will have a great time sorting through the coins, practicing their fine motor skills and honing their ability to categorize and identify different features.
Penny Art
Get creative with pennies by using them as unique art materials. Children can glue them onto cardboard to create dazzling mosaics or arrange them in patterns to form pictures. Encourage their imagination and let them design their own masterpieces, turning dull pennies into shining works of art!
Coin Rubbings
Lay a piece of paper over a penny and use a crayon or pencil to gently rub over it. The coin's design will transfer onto the paper, revealing intricate details that might go unnoticed otherwise. This activity provides an excellent opportunity to teach children about the designs and historical figures featured on various pennies throughout the years.
Penny Geography
Use pennies to introduce children to geography by placing them on a map to represent different cities, states, or countries. This interactive activity not only helps them learn about different places but also teaches them about the concept of scale and distance.
Penny Toss
Set up buckets or containers with different point values and let kids take turns tossing pennies to score points. This game is not only entertaining but also encourages them to develop their hand-eye coordination and precision.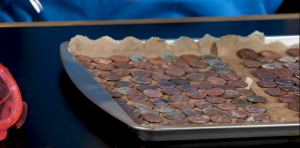 Remember to supervise the activities, especially with younger children, to ensure safety since the items are small.
For more penny, watch "Episode Twelve – Penny Palooza: Basketball Bonanza" of Happy Camper Live: 365 Days Of Camp, free on Kidoodle TV.
Tagged:- activities for kids, kidoodle tv