Thanksgiving is a great time to catch up with family. Here are a few fun games that you can do while waiting for dinner to start or you can play after dinner while you're relaxing with family and friends.
Game #1: Thanksgiving Charades
Have a list of different things you want to act out, whether it is a movie, show, actor, sport, action, or phrase. When you have what you want written out, put them in a bowl so the teams you make can choose blindly from the different options. No talking as you act it out!
Game #2: Scavenger hunt
Have an adult create a list of 30 things that relate to Thanksgiving, you can help with word suggestions, but you can't see the list until it is finished. After the list is completed then have all the kids participate in trying to find each and every word. The kids can play in teams or by themselves. This will keep the kids busy instead of getting bored waiting for dinner to be ready.
Game #3: Don't Say Turkey!
This would be a fun game to do throughout the day. Have everyone start off with five clothing pins each and explain that they cannot say the word turkey. If they slip up, then whoever catches them saying turkey gets to collect one of their pins. The person with the most pins at the end wins! The winner can get an extra serving of dessert!
Game #4: Thanksgiving Word Search
This word search will definitely keep you busy for a bit. There are 28 words that all relate to Thanksgiving and the holiday spirit. Make a game out of it and see who can complete it first; winner can get first servings of dessert or seconds!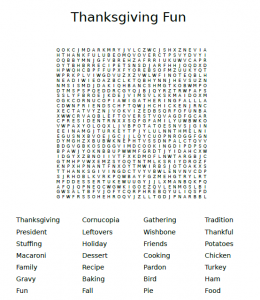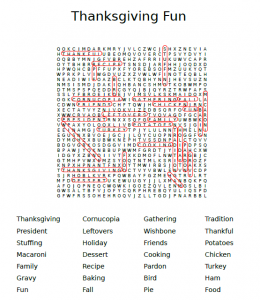 Tagged:- family activities, Thanksgiving, Thanksgiving games