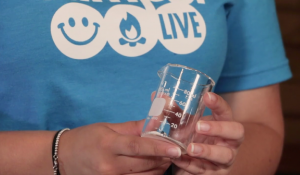 Hey there, eco-friendly explorers! Are you ready to embark on a delicious adventure that's not only fun but also good for the planet? We've got a treat for you – edible eco science crafts! These tasty experiments will not only satisfy your taste buds but also teach you about the environment and how to take care of it.
It's time to get creative in the kitchen with these delightful, eco-friendly experiments!
Fruit and Veggie Stamp Art
Materials:
A variety of fruits and vegetables (e.g., apples, bell peppers, potatoes), water-based paint, paper or a canvas
Instructions:
Cut the fruits and vegetables in half to create interesting shapes. Dip them in paint, ensuring they are well-coated.
Press the painted side onto your paper or canvas to create colorful prints.
Experiment with different combinations and colors to make your own edible artwork!
Jellybean Rainbow Experiment
Materials:
A plate, jellybeans in various colors, warm water
Instructions:
Arrange the jellybeans in a circle on the plate, creating a rainbow shape. Carefully pour warm water into the center of the plate.
Observe what happens to the jellybeans as the warm water dissolves their colors. Watch as the colors mix and create a beautiful rainbow in the water!
Tasty Solar Oven
Materials:
A cardboard box, aluminum foil, plastic wrap, a stick or ruler, glue, chocolate chips (or your favorite chocolate treat)
Instructions:
Cut a flap in the cardboard box's lid. Cover the inside of the flap with aluminum foil.
Line the inside of the box with plastic wrap. Put the chocolate chips on a plate inside the box.
Use the stick or ruler to prop open the flap, directing sunlight onto the chocolate. Wait for the sun to melt your chocolate, and then enjoy a gooey, solar-cooked treat!
Edible Plant Parts
Materials:
Various edible plant parts (e.g., celery, carrots, apples, lettuce), a magnifying glass (optional)
Instructions:
Take a close look at different parts of edible plants like the leaves, stems, and roots.
Use a magnifying glass to examine them closely and observe the unique patterns and structures.
After your exploration, enjoy a tasty snack by dipping these plant parts in some peanut butter, hummus, or your favorite healthy dip!
Eco science crafts don't have to be boring – they can be deliciously fun! Watch "Episode 17 – Eco-Hip-Hop-Pallet Party!" of Kidoodle TV to learn how to make an edible water bottle.
Tagged:- eco science, edible science, kidoodle tv, science camp