With Halloween right around the corner what better way to celebrate than making your very own Jack-O-Lanterns! Carving pumpkins is always a great time getting messy with the pumpkin guts, taking the seeds out, and coming up with your very own pumpkin carving design. The only downside to it all is that your pumpkin doesn't last that long before it gets all yucky and you have to throw it away.
So why not try another way of designing? You can use a lot of stuff around your house to come up with some very unique "pumpkins." For example, all your milk and juice gallons can be painted and cut up to make your very own Jack-O-Lantern that will stay lit and outside for the whole month of October! Or if you have any brown paper bags and empty plastic water bottles, the possibilities are endless. All you have to do is use your imagination. In four easy steps, we will show you how to create your pumpkin.
Materials Needed:
Milk Gallon
Juice Gallon
Brown Paper Bag(s)
Empty Water Bottle
Glow Stick
LED Tealight Candle*
Wax Tealight Candle
Marker
*You only need one light for one pumpkin
Step 1: Gather all your materials.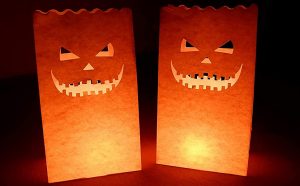 Step 2: Trace your design on your "pumpkin" with your marker.
Step 3: When you're done then cut your design out.
Step 4: After the design is cut out then add your light and set it outside to spook your neighbors.
For more arts and crafts fun, check out our Arts and Crafts Camp.
Tagged:- fall, fall activities, family activities, halloween