Who doesn't love cookies; they are warm, fluffy, gooey, chewy, and just so tasty! You can try these five easy recipes at home and decide which one is your favorite.
Chocolate Chip
You can never go wrong with a classic chocolate chip cookie. You can add as many chocolate chips as possible in them to make them super sugary.
Ingredients:
1 cup melted butter
1 ½ cup light brown sugar
½ cup sugar
2 tsp vanilla extract
2 eggs
3 cup flour
1 tsp baking soda
1 tsp salt
2 cup chocolate chips
Instructions: Bake at 375 degrees for 20 min or until golden.
Grinch Cookies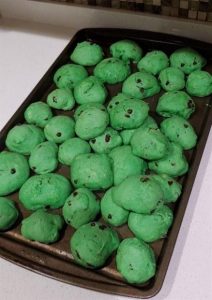 It's December so why not make some holiday Christmas themed cookies! These aren't your normal cookies, when finished these will look like little fluff balls.
Ingredients:
Mix dry/wet ingredients separately
4 cups of flour
1 ½ cup of sugar
1 tsp salt
3 tsp of baking powder2 cups of chocolate chips
4 eggs
1 ½ cup butter (melted)
3 drops of green dye
3 tsp vanilla extract
Instructions: Cook at 350° for 20 min or until fluffy.
Lemon Bars
When making the bars use a cake pan and line it with parchment paper so you can make sure the lemon filling stays put on the crust and doesn't spill out over the edges.
Ingredients:
Shortbread Crust
1 cup melted butter
2 teaspoons pure vanilla extract
1/2 teaspoon salt
2 cups of flour
1/2 cup sugar
Lemon Filling
2 cups sugar
6 Tablespoons flour
6 large eggs
1 cup of lemon juice or 4 squeezed lemons
Instructions: Cook crust at 350° for 20 minutes. After the crust is made, evenly spread it all over the pan. Make sure it is not too thin of a layer because the lemon filling will be poured on top. Once filling is on top, cook for another 20 minutes until it no longer jiggles.
Peanut Butter
These are the easiest cookies you could possibly make. There is no way you can get this wrong with using just 3 ingredients. If you love peanut butter, then these are for you.
Ingredients:
1 cup of sugar
1 cup of peanut butter
1 egg
Instructions: Cook at 350° for 10 min or until chewy. When finished mixing flatten the cookies with your palm or the back of a fork in criss-cross angle.
Sugar Cookies
It's December so that means to get out your cookie cutters, frosting, and sprinkles to make your very own creative holiday cookies. You can make snowmen, Christmas trees, or even snowflakes to munch on. Below is an easy recipe that you can use for your own cookies.
Ingredients:

*Mix dry/wet ingredients separately
2 ½ cups flour
½ tsp baking powder
½ tsp baking soda
1 ⅓ cups sugar
1 cup of sprinkles
½ tsp salt
1 egg
2 tsp vanilla extract
1 cup butter
Instructions: Cook at 350° for 12 min or until chewy.
Which recipe was your favorite? We like to hear from you and see your awesome baking skills!
Tagged:- cooking, cooking camp, family activities, holidays