Earth Day is a special day to celebrate our planet and educate others about the importance of our resources. Millions of people partake in celebrating our planet. Whether it be organizing a group to pick up litter, planting trees, or even limiting your water usage, numerous things can help make the world we live in a happier and healthier place.
What is Earth Day?
Earth Day started back on April 22, 1970, with Senator Gaylord Nelson. He created Earth Day as a way to bring national attention to protecting our environment. Nelson hoped to bring environmental causes such as pollution and chemical waste dumping to the light to show how much harm the human race is causing the planet. Since, there have been hundreds to thousands of protests, rallies, and marches to bring this issue to the public.
Each year we all collectively try to do our part to make the Earth a bit greener on Earth Day. Sometimes people take it as far as to celebrate Earth all week. Since 1990 Earth Day has grown globally, and millions of people participate in doing their part for the planet.
How to Participate?
Protecting our planet ultimately starts with you, and there are numerous things for you to do that can help you start your role as a planet hero!
#1 Become a Waste Warrior! The name says it all, organize a group to go to the beach, lake, park, or just go around your block and pick up litter off the floor. Decorating the planet with litter never looks pretty so why not go around and do your part. Grab a trash bag and some gloves, doing this for just 15 minutes can make a huge difference. In the end, you'll see how pretty mother nature can be when there's no trash around.
#2 The number one you can start doing in your life is to use reusable bags. When going to the grocery store opt out of using plastic or paper bags, instead bring your bags to the store. Did you know that a plastic bag takes 1,000 years to decompose? And using one reusable bag can prevent the use of over 500 plastic bags. That is a lot, but following the three R's: reduce, reuse, and recycle, can help cut that down.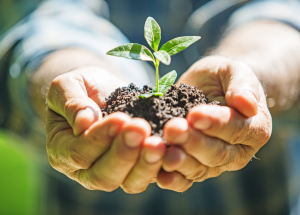 #3 If you need new light bulbs soon, then try changing your bulbs to energy-saving bulbs. LED light bulbs use less energy and can last 3x longer than an incandescent bulb. So, with the bonus of saving energy, you're saving money as well!
#4 Conserve water, so less water is wasted and there's less runoff. Stop leaving the water running when brushing your teeth or take Navy showers. Navy showers mean to turn the water off when lathering. So, when scrubbing your shampoo, conditioner, and body soap on yourself turn the water off. Only use the water to rinse.
#5 There are a lot of volunteer opportunities happening in your community in which you can participate. If there's none then you can always be the first to create one. Start with a group litter pickup around the community.
#6 Finally, go out and plant a tree! Planting a tree helps create homes for little critters as well as creating food and oxygen for us. New trees also help with creating clean air.
Hopefully, you can use some of these things to help you make this Earth Day a special one; go and make Earth a cleaner and happier place. Share this with your family and friends.
Tagged:- Earth Day, outdoor activities, outdoor adventure