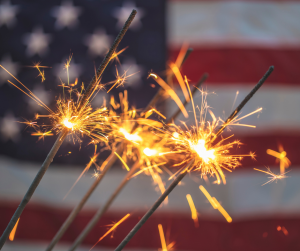 The 4th of July is a celebration of independence and freedom for America. A day to show off your red, white, and blue pride! Instead of doing nothing all day, why not make the most of the celebration.
Troop Care Package
Remember that even though you are with your family celebrating this amazing holiday there are troops overseas not able to be with their family. Why not make them a care package you can send, there are many places nearby that you can contact to send your package. Write them a letter and draw a picture for them. Troops love and appreciate all the gifts that come their way. Below is a list of websites you can go on to send in your package.
Family Picnic
In the middle of summer, a lot of people are barbequing, the weather is nice out, and a lot of celebrating happening. This means this would be a perfect time for a family picnic. Pack a lunch and a lot of different snacks and desserts to spend the day at the park and relax. A lot of the time some parks will do firework shows at night so check with your city and see if there are any nearby firework shows happening.
Red, White, and Blue Day
From the moment you wake up till sundown have a challenge with your family. Spend the whole day eating, drinking, and wearing red, white, or blue. You'll be showing your patriotism and having fun with the family, plus you can make a list of how many different red, white, and blue things you've eaten!
Fireworks in a Jar
Yes, it is the summer, and doing a science experiment sounds boring but when you see the results, you'll think it's the coolest science experiment ever! You can make your fireworks with food coloring, oil, and water.
You need to add ¾ of warm water in a jar or a tall glass cup. In a separate bowl, add three tablespoons of oil and four drops of food coloring (if you have more than one color then you can use it). Gently mix the oil and food coloring. Next, pour the mixture into the jar and watch how the food coloring slowly sinks to the bottom while creating a cool firework display.
Water Balloons
During the summer, it sometimes gets hot outside and kids love a good water game to play. So, to keep in theme with the holiday you can purchase red, white, and blue balloons and play a lot of different games. You can play water balloon baseball, water balloon toss, or hang the balloons like a pinata and have each kid swing at each one. Getting to break the balloons and get wet will have the kids entertained until the balloons run out.
Tagged:- 4th of July, summer, summer camp, summer camp activities