If you're going hiking or adventuring in the woods it's best to go with others, and it's a good idea to have some survival skills. We recommend taking an official wilderness class by people who are certified, so you're prepared for any scenario.
If you get lost while hiking with family or friends, experts recommend staying put so rescuers and searchers can find you easier. Here are four skills that would be beneficial for everyone to learn more about before their next trip into the woods.
Here are 4 survival skills kids should know
Signal For Help
Kids of all ages should know how to signal for help if they are ever lost in the wilderness. The easiest way to be prepared is to carry a survival whistle and know how many times you should blow to signal for help. The universal call for help is three loud, short blasts on the whistle, with each blast lasting about three seconds. Then take a breath or two before starting again, then repeat until help arrives. It's beneficial to know how to whistle with your mouth so you can signal for help even if you've left your survival whistle at camp or at home.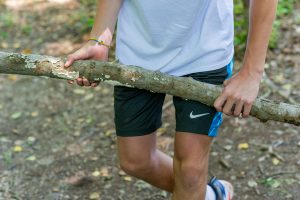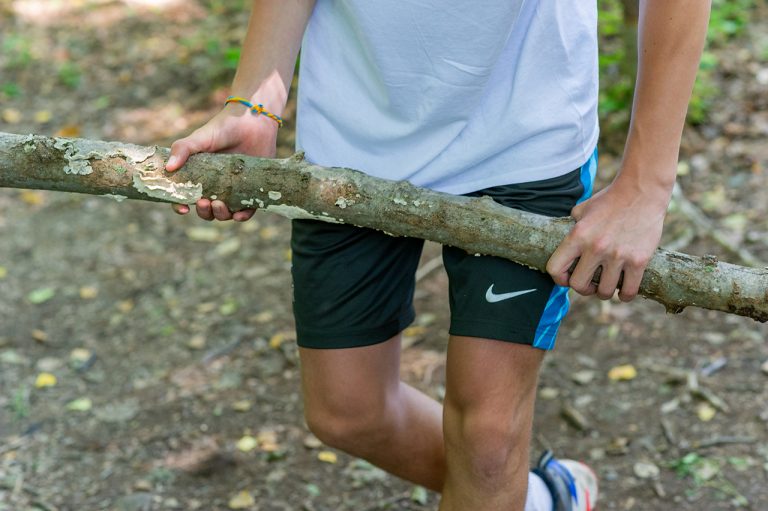 Find Water and Food
Be prepared. It's always a good idea to bring food and water with you anytime you're venturing off into the wilderness, even if it's just for a short hike. You never know when you might get lost or injured, and having those supplies would be helpful. Ideally when you're hiking you're bringing a water bottle with a filter, so you're able to remove bacteria if you have to refill from a river. If you don't have a water bottle and you find yourself stranded, try to find freshwater from rain or clean streams.
It's helpful to know the area you're in and know the plant life so you can forage for food too. You can pick up books about plant foraging to learn more on the topic. If you are familiar with fishing and near running water, you might want to try your hand at catching some fish. Learn how to catch a fish using only a crate, and become a real wilderness expert.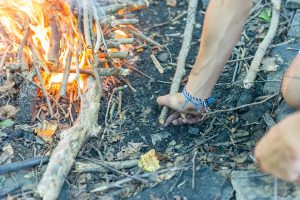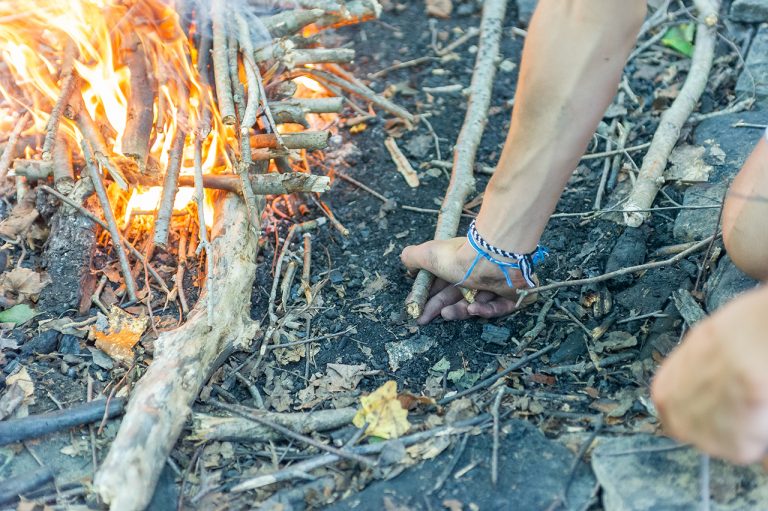 Build A Shelter
If you're ever lost in the wilderness, knowing how to find or build shelter for the night is an important skill. Don't hike when it's dark because you're more likely to get lost.
Practice building shelters like lean-tos with your kids so they are prepared if they ever need to build one on their own. Build the frame in a sturdy manner, use vegetation to insulate the holes, and make sure to mark it with something unusual so it's visible. Shelters built with natural elements tends to blend into the environment, so putting your bandana or a colorful piece of clothing outside to mark the shelter is important so rescuers don't miss you.
Watch Camp Lunchables' Nature Thursdays video about shelter building to stay dry. Or check out Happy Camper Live's Outdoor Adventure Camp where camp counselor Aaron will teach you about catching fish, building a simple shelter for a night under the stars and tying knots.
Self-defense
Knowing how to defend yourself is always a good skill to have, whether it's against a wild animal or a person. You should definitely reach out to a professional in your area to learn official self-defense tactics for your kids. For the basics, our Taekwondo Camp can teach you a proper punch, how to block, kicking and more. Check it out today! Whether you're adventuring in the wilderness or growing up in a big city, self-defense skills are useful to know. For more adventure tips, check out the Best Cities For Bringing Up Adventurous Kids.
What survival skills do you want to know more about?
Tagged:- lessons for kids, outdoor adventure camp, outdoor camp, summer camp activities