Camp is all about sharing stories, having fun and capturing memories. Photography is another way we can capture memories of the fun moments in our lives. These days almost everyone has access to a camera with the phone in their pocket or by using their parent's phone. Today we're recommending you go on a photo adventure around your home. Grab your camera or phone and start taking pictures of the world around you!
Here are four photography tips for beginning photographers.
Use the Rule of Thirds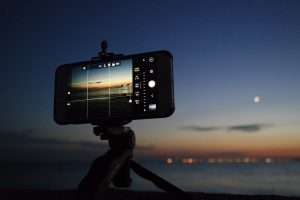 The Rule of Thirds is a photography concept that helps a photographer improve photo composition. If you look through your camera, imagine it divided into a grid made up of nine sections, created by three columns and three rows intersecting.
The Rule of Thirds helps you determine where to frame your subject as you're taking the picture. The theory is if you put the subject, say a flower, at the point of intersections or along those lines, your photo becomes more balanced and the viewer will enjoy it more. Studies show people's eyes go more to the points of intersection rather than the center of the photo. Try using the Rule of Thirds as you photograph things in your home or backyard. It's applicable to your phone too, which is why the camera apps on phones now come with a grid already built in.
Know Your Equipment
If you're using a DSLR camera it's important to become familiar with your equipment. Know what each button does, and start learning how they interact with each other. You can read your camera's manual or look on YouTube for tutorials. If you're using a phone's camera, play around and learn the settings. Learn how you focus on a spot, how you can change the lighting and what filters are available. Before setting off on a photo adventure, make sure your camera or phone is charged and ready to go.
Take Advantage of the Golden Hour
The golden hour is peak photography time. That's the time when natural light is at its best and any subject will look stunning because the light is diffused evenly. Golden hour is typically about two hours after sunrise or two hours before sunset.
Practice Every Day
Photography is like any hobby — it takes practice. If you want to get better at it, dedicate 10-15 minutes every day just taking photos around your house or yard. Then look back at the photos and pick the ones you liked the best. Take a minute to study them. What was it that made you like them? Did you use the Rule of Thirds? Was your lighting really good? Ask a family member what photos stood out to them and why. Take feedback and apply it to your next photography session. You won't always get amazing photos that deserve to be on the cover of National Geographic, but you might get some that you will treasure forever.
Interested in learning more about photography? Try our online Photography Camp to learn about close-up shots, trick pix, shadow magic and more.
Tagged:- activities for kids to try at home, camps for kids, photo camp, photography camp, things to do with kids