Summer time is adventure time! If your summer bucket list includes outdoor adventures with your kids, we recommend putting together a kit with all of the outdoor essentials so they're easily accessible when you need them.
Fanny packs are back in style! The first item moms should grab is a fanny pack because it keeps you hands-free and holds all of your items while you're on the go. There are so many reasons to love fanny packs: They're fun, fashionable and functional! Most feature zippered pockets perfect for storing small and large items you need when traveling with kids. Whether you're trekking through the woods or just playing at the park, a fanny pack is a great way to carry all of your summer essentials. Don't leave home without packing these items in your bag.
Here are 11 things you need in your fanny pack this summer.
Hand Sanitizer
Hand sanitizer is a useful first aid supply for cleaning your hands before treating your own or someone else's injury. It will also help you remove tree sap or other sticky, dirty things from your hands after a hike.
Witch Hazel Cleansing Cloths
Witch hazel is an essential item if you're a fan of the outdoors. Distilled witch hazel is a natural product that can help cool everyday skin irritations like light sunburns or bug bites. Rather than carry around a bottle and cotton swabs, go for the witch hazel wipes. We recommend our partner's product — T.N. Dickinson's Witch Hazel Cleansing Cloths. They're 99% natural and gentle enough for daily face and body cleansing. Another great thing about T.N. Dickinson's Witch Hazel cleansing cloths is that they're fragrance free, so you won't attract bugs with a perfume scent.
T.N. Dickinson's Witch Hazel Cleansing Cloths can be used throughout the day and are great for the entire family. They can be purchased at Walgreens, Walmart, CVS, Target, and other retailers. Look for free samples at events in select cities this summer!
Mask
Don't forget your face mask. You may need it if you're going into a public space, so it's always good to have an extra one in your pack.
Charger
The last thing you want is to get lost in the woods and have your phone battery die. Consider bringing a portable battery and cord, so you can easily charge your phone in those emergency moments. Plus, you'll be able to get great pictures of the kids when your phone is charged up!
Snacks
When you're on an adventure you don't know where the day will take you. It's best to be prepared by bringing some nonperishable snacks with you. Trail mix, beef jerky, and dried fruit are all good options. Swing by the grocery store and pick up a couple of energy bars that are kid-friendly so you all can have a boost of energy for the hike back down the mountain. If your fanny pack has an outside pocket for a water bottle, don't forget to pack one. If not, you can still carry one with you in your hand.
Sunscreen Lotion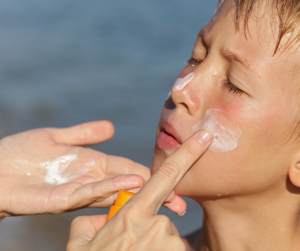 Nobody wants to end a fun day with a painful sunburn. Put on sunscreen lotion before heading outside, and reapply throughout the day to keep your skin safe. The general rule is to reapply every two hours if you're outside, especially if you're swimming or sweating. We love using Blue Lizard Sunscreen.
Lip Balm
You packed sunscreen, so don't forget some sunscreen for your lips. Pack a lip balm with SPF in it so your lips stay protected too.
Band-Aids
As you're packing your fanny pack, don't forget to throw in a couple of Band-Aids in varying sizes. Trips, falls, and scratches can happen when you're traveling, and it's nice to have something to stop even a small cut from bleeding.
Mini Hair Brush
This one is handy for those days when the wind is blowing. You may need to do a quick brush of your hair or your kids' hair before heading into a restaurant, store, or other stop along the road.
Hair Ties
This recommendation goes with the previous one. If you or your kids have medium to long hair, a couple of hair ties are a great addition to your fanny pack. They'll help keep your hair out of your face.
Fanny Pack Checklist
Create a checklist of what you want to include in your fanny pack for your adventures with your kids. Print it out, laminate it, and then stick it in your fanny pack. You can use it every time you pack your fanny pack before a trip so you don't forget anything important.
Hiking, traveling and outdoor adventures are so much more enjoyable when you're prepared for the little things. We hope you are now prepared to pack the essentials in your fanny pack. Enjoy your summer adventures with the kids!
Let us know what's in your pack! Share a video of your pack to the Campfire.
Tagged:- adventure camp, summer, summer adventure, summer adventure camp, summer adventures, summer camp, summer fanny pack